Volamiandoha Ratsimiahotrarivo (Madagascar) - Miss Earth 2011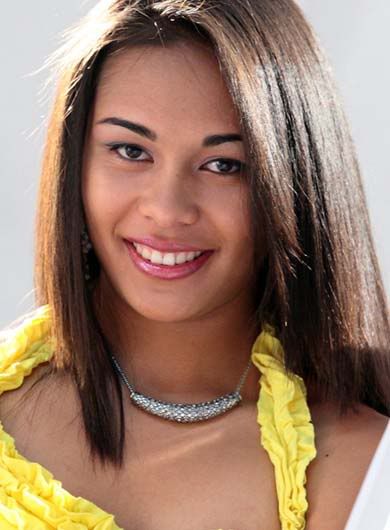 Miss Earth 2011 Beauty Pageant
Candidates | Contestants Profile

Miss Madagascar

Volamiandoha Ratsimiahotrarivo

Age: 18

Height: 175cm

Hometown: Antsirabe

Environmental Views:

What environmental project will you create to promote the protection of Mother Earth and why?

I plan to carry out a project about the use of solar energy instead of charcoal. I plan to do so because in my country, forest fire or bush fire is very rampant, and using solar energy is one way to save our forests and protect the environment.

What makes you proud of the country you are representing, and what can you promote about your country?

I'm proud of its extraordinary and unique biodiversity. It's natural resources, its fauna and flora make Madagascar a unique country. Some animals and vegetables are found only in my country. It looks like a paradise island and many foreigners come to visit it to discover this natural wealth.

Describe your childhood/growing years.

Ever since I was a child, I have always wanted to become a beauty queen. Being the eldest in the famiIy, I learned to take part in doing household chores and I took my studies seriously.

What lessons did you learn from your childhood/growing years?

I learned that it's better to have a goal or ambition in your life. Taking on small responsibilities at home made me more and more responsible and independent nowadays. I now live on my own and, thankfully, I don't encounter many problems in my everyday life.

What is your most memorable moment?

To win the Miss Madagascar contest is one of the most memorable moment of my life. I was proud of myself to be the winner of such a big competition. For the sake of challenge, I dared to participate despite my shyness. Then I had to make some efforts. In fact, all of the candidates here had their qualities and it was tough to face them. Moreover, this moment was also memorable because of my family's support.

What is your environmental advocacy?

In order to protect the environment, it is essential that everybody takes his own responsibility. We can take part in the defense of environment by our everyday behavior.

For instance, tree planting, protection against bush fire. More over as the air pollution is a threat nowadays, it is necessary that we reduce as we can, CO2 emission.
*Back to Miss Earth 2011 Delegates:
Batch A-D
|
Batch E-K
|
Batch L-P
|
Batch R-Z