Cherry Liu (Chinese Taipei) - Miss Earth 2011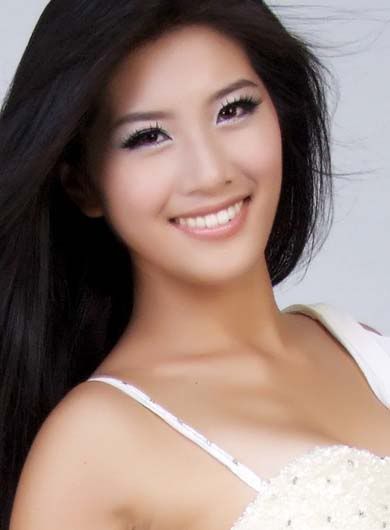 Miss Earth 2011 Beauty Pageant
Candidates | Contestants Profile

Miss Chinese Taipei

Cherry Liu

Age: 18

Height: 175cm

Hometown: Taipei

Notes: Cherry Liu is the reigning Miss Earth Taiwan 2011.

Environmental Views:

What environmental project will you create to promote the protection of Mother Earth and why?

My goal this year is to raise awareness of the importance of Environmental Protection. I believe it is essential to educate our new generation what are the environmental issues the Earth is facing in the 21st century, and how do we correspond to it. I will be visiting various elementary and junior-high schools through out the year, guiding and demonstrating them the correct way to recycle, save energy to reduce carbon emission to cool the Earth.

I will also be launching a charity t-shirt project "Smile for Earth". We have assembled a team of 100(10 beautiful girls from 10 universities) in Taiwan to assist advocating my goal, by auctioning 10 US dollar t-shirts to college students, corporate industries and political leaders. Furthermore, the profit will be the foundation for us to buy seeds and conjointly grow them in the major cities of Taiwan and also to buy reusable chopsticks for our younger generation. The vision of this campaign is to influence all ages of people in the importance of becoming eco-friendly and cherishing our Mother Earth.

What makes you proud of the country you are representing, and what can you promote about your country?

The beautiful Formosa Island- Taiwan, is celebrating its 100th Centennial this year. The small population of 23 million people has been through a long journey of political changes. But the Republic of China(Taiwan) today, is a fascinating, multicultural democratic country filled with delicious cuisines, astonishing landscapes and richness in indigenous culture. Taiwan is undeniably recognized best for The National Palace Museum, that contains 1/4 of the Worlds traditional Chinese artifacts, we also have the World's best golf player-Tseng Yani and The World's tallest eco-friendly LEED building, Taipei 101. What people may not know is that the modern, developed country Taiwan, cares tremendously about environmental protection, both the government and the people. For Example: Where I live, the busy Taipei City, every household is required to divide trash in to four categories, and we are also required to pay for waste bags, this is our way of reducing trash. We have successfully done so, by reducing 28%. And if you have a chance to visit Taiwan one day, you will notice signs in our restrooms, our offices and schools everywhere, to remind us to turn off our lights and save energy. I am proud to say that this friendly and convenient living environment, beautiful and hospitable Taiwan is my Home.

Describe your childhood/growing years.

I am very blessed to grow up in a family with loving parents that have nourished me in becoming who I am today. I have a great memory of my childhood, filled with summer camps in YMCA, hiking and skiing trips on the weekends, family reunions at extraordinary beaches. I love the outdoors, and all kinds of sports. Beach volleyball, basketball, swimming….just about everything Athletic! I was also very passionate of dancing, I could dance anywhere at anytime. As I said before, I am extremely thankful for what my parents has provided me, and I hope I can do the same for my kids in the future. Offer them the clean and beautiful childhood I have lived in.

What lessons did you learn from your childhood/growing years?

Due to my fathers occupation, my family had the chance to live in both Taiwan and America. And the traveling between countries has shaped the character of who I am today…. the combination of two different culture traits. Being fun and outgoing, but at the same time understanding to Give and be humble. My parents were the live inspiration and motivation to me, their drive to reach their goal has proved to me that we shouldn't doubt ourselves, the only thing we should doubt is our limits! My all time favorite quote can define the experiences I have learned from the past " throw off the bowlines, sail away from the safe harbor, catch the trade winds, in your sails, explore, dream, discover." Life is a climb, you have to explore and try everything, until you realize what you want the most in life. Then set your mind on your goal, and don't let fear get to you, in the end you will find the true beauty within your own goal.

What is your most memorable moment?

My most memorable moment has to be this summer, I attended HPAIR(Harvard project for Asia International Relations). During this five day event in Seoul, there was a day called International Night. It was a night where delegates from different countries can perform something that represents their culture and country. It was an amazing night, because I got to see people the same age as me that has the same drive like me, to share the beauty of their country to the world. We saw fan dance, belly dance, break dances, and many more. Of course, 11 of us Taiwan delegates performed too. We practiced extremely hard the whole summer to learn this Tai-ya aboriginal dance, and we felt very accomplished when people from the audience joined us, in the end we even got a standing ovation! It was the proudest moment of my life so far.

What is your environmental advocacy?

My environmental advocacy will be predominantly based on education of how to be environmentally friendly. I believe it is important to teach our new generation why environmental protection needs us to take affirmative action now.
*Back to Miss Earth 2011 Delegates:
Batch A-D
|
Batch E-K
|
Batch L-P
|
Batch R-Z