Patricia Amoah Anti (Ghana) - Miss Earth 2011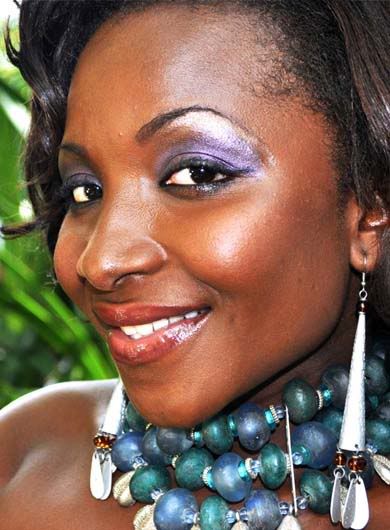 Miss Earth 2011 Beauty Pageant
Candidates | Contestants Profile

Miss Ghana

Patricia Amoah Anti

Age: 21

Height: 156cm

Environmental Views:

What environmental project will you create to promote the protection of Mother Earth and why?

Air pollution is one of the biggest causes of environmental harm causing discomfort to humans and other living organisms and causing damage to the natural environment. Two such common air pollutants, Ozone and particulate pollution are commonly found in many parts of my country and I believe in many other countries of the world.

The environmental project that I will create to promote the protection of Mother Earth would deal with the enforcement of laws and regulations and control of vehicular emissions standards and regulations in my country that will significantly help reduce the health risk associated with vehicular emissions on the environment to protect the environment and mother earth.

What makes you proud of the country you are representing, and what can you promote about your country?

AKWAABA means "WELCOME"in my country. So ... Akwaaba to this beautiful country! Ghana which I'm so proud of.

GHANA IS INCREDIBLE. Everything is in excess… overwhelming hospitality, a multitude of religions, languages, music, dancing, socialising and an abundance of glorious African countryside and wide open spaces.

The very best of my country, Ghana, however, is the Ghanaian people - we are amongst the friendliest in Africa, so prepare yourself for a warm, sociable welcome!

The atmosphere in my country is extraordinary; with its run-down shacks, half completed buildings and people trying to sell you anything and everything. From the moment you step off the plane you realise that you have arrived in a very different place and you're about to have a completely new cultural experience!

There is an air of excitement as people strive for achievement and improved quality of life. It is a country that is full of cheerful anticipation and optimism. We are extremely friendly and hospitable and are proud of our culture and love welcoming people from outside to integrate and mix in with our local customs and way of living.

The air has an amazing aroma; a mixture of charcoal and local dishes cooking over an open pot. The sounds of the energetic tribal language being spoken around you will assure you…. you have landed in Africa!

My country is an exciting modern African culture – open, musical and diverse. Although my country is a developing nation, she abounds in rich mineral, gold, diamonds, manganese, bauxite and much more natural resources; recently she has attracted new money, "the black liquid gold" and Ghanaians and foreign investors alike are returning from abroad and bringing new investment and ideas with them. I am also proud that my country is the most stable country on the West Coast of Africa and a truly delightful place to work in and visit. It is now one of the most dynamic countries in West Africa. As the first country in Africa to gain independence from the British Empire on the 6th of March, 1957, my country retains a remarkable sense of independence. Ghana is bursting with customs and tradition and has a long rich history of crafts-people. Much of the attraction of my country results from the legacy as the centre of the gold, ivory, and slave trade during the 17th and 18th centuries, when the mighty Ashanti Empire held sway here. However, my country also possesses one of the best game reserves in West Africa, a multitude of good beaches, dotted with historic Forts and Castles and plenty of hospitality.

For people who are looking to escape from the comforts and routines of our world and to enter a country that has a proud African culture and heritage, then Akwaaba [welcome] to Ghana.

One most important aspect of my country that I would like to promote is our rich cultural diversity and our ability to embrace all cultures and persons from all different races and backgrounds. I would advocate that we remain as warm, friendly, and sociable people as we have ever been. Polite, open and trusting - even with strangers and taking life at a more relaxed pace, viewing time as a series of events rather than a matter of hours or minutes. This is known as GHANA TIME - it can be frustrating to foreigners, but relax and you'll get used to it. To us, people are more important than schedules.

Describe your childhood/growing years.

Like any other growing child from a less privileged home, my growing years were one of difficulty. But in spite of the challenges and difficulties, I hated to be taken for granted and therefore made sure that I took my education seriously that at the end of every term, I received a prize or two. My peers used to call me the "English teacher" because I was always correcting their spoken English.

One moment I remember vividly was when I was chosen as one of the members to recite a poem and also perform in a chorography dance at my schools speech and prize giving day. After painstakingly learning to recite the poem and all the chorography steps ready for action, my teachers said they had dropped me in favour of the class teacher's daughter at the last minute. I wept and wept till that decision was overturned and I also insisted that if I was not made the leader of the chorography group, then no one is dancing.

No wonder I held two perfect positions when I entered into Senior High School.

What lessons did you learn from your childhood/growing years?

Humility, Submissiveness and Determination were values I learnt during my growing years, especially when I entered Senior High School. I leant to remove vocabularies such as "I can't", "it's impossible", "no" and the likes from my dictionary. I was determined to excel in all I did especially so when I was made the Entertainment Perfect. Peer pressure was so predominant in my school that without determination, I would have fallen victim to some of such vices.

What is your most memorable moment?

My most memorable day in my life was the night I was crowned Ghana's Most Beautiful 2010 in front of a fully packed auditorium of over 1,500 audiences. This was after a 13 week live reality context that has been keenly contested leaving a final 6 contestants to contest for that one crown.

It was the most memorable moments in my life watching the audience jubilating as a confirmation that truly I deserved the crown. I couldn't help but shed tears of joy and for making my family proud.

What is your environmental advocacy?

As an MDG Youth Ambassador for Ghana, my environmental advocacy is that we have only one environment to live in our lifetime and therefore we should ensure its sustainability especially regarding access to safe drinking water and basic sanitation as set out under MDG 7.

Although environmental sustainability encompasses a wider sector and covers a rather wide area such as reduction of rate of deforestation, reduction of consumption of ozone-depleting substances, control of CO2 emissions etc., one area under Ensuring Environmental Sustainability that cuts across all of above mentioned areas and is essential for the achievement of the other MDGs goals is Sustainable access to safe drinking water and basic sanitation. Why do I say that? For example, it is a fundamental requirement for effective primary health care, increasing enrollment of boys and girls in schools and a pre-condition for success in the fight against poverty, hunger, child mortality and in achieving greater gender equality.
*Back to Miss Earth 2011 Delegates:
Batch A-D
|
Batch E-K
|
Batch L-P
|
Batch R-Z