Olga Alava (Ecuador) - Miss Earth 2011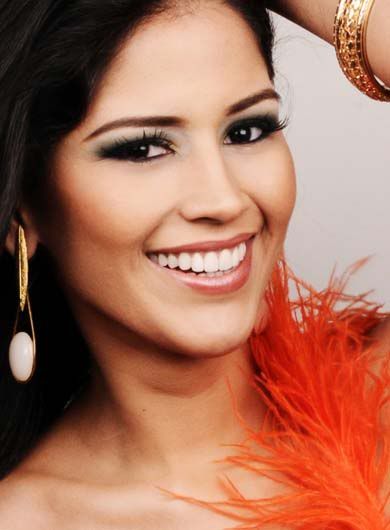 Miss Earth 2011 Beauty Pageant
Candidates | Contestants Profile

Miss Ecuador

Olga Alava

Age: 23

Height: 173cm

Hometown: Guayaquil

Notes: Olga Alava is the 1st run-up in Miss Ecuador 2011. She was also the 2nd run-up in Reina Hispanoamericana 2011 contest.

Environmental Views:

What environmental project will you create to promote the protection of Mother Earth and why?

My principal Project is to preserve the mother earth , taking care of the forests which give us the air to live, and are habitats for biodiversity. Campaigns dedicated to children and teenagers teaching the importance of preserving and planting. The project for my country will be to help preserving the reserve Yasuni national park by promoting it importance abroad.

What makes you proud of the country you are representing, and what can you promote about your country?

Ecuador is a very rich country in cultural and biodiversity of animals and plants it is in the list of the most diverse countries in the world , the majority area is jungle and the most high mangroves in the world located at the north of the country , no other country can take travelers from a beautiful perfect beach to the highlands and then to the jungle of the Amazon in the same day , as it is small in kilometers but big in biodiversity, I will promote my country as a complement to the world and complete for a sustainable development that have to be preserve.

Another super important part is that Ecuador got the Galapagos Islands which have a variety of species which were studied by Charles Darwin , the islands are famous for its fauna specially for its turtles.

On the other hand Ecuador got the National Park Yasuni , which means `'sacred land' which have 10000 kms of mostly jungle , denomitades the Unesco Biosfere Reserve, that is why I promote the preserving of Yasuni because is a lung for the world.

Describe your childhood/growing years.

When I was 8 my little sister born, this was a very happy year as we were a complete family and a new member of the family arrive , we visit a lot the farm of my grandmother there we play in the river and practice fishing, also searching for fruits in the trees and my cousins climb to catch them, I remember my parents bought a big refrigerator so my little sister, my brother and I did a house inside the cartons of that new refrigerator so we played a lot simulating it was a big house because we were almost the same age so we were able to have the same fun.

What lessons did you learn from your childhood/growing years?

That the family is the most important thing in the world , that we have to work hard to maintain it united and with too much love, to share moments and supporting decisions , that Strong families make it a priority to spend time together, and are committed to each other and this is a example of my family , also I learned that is important to establish something the whole family enjoys doing together, like a hobby, or a form of exercise, cycling or hiking so can b enjoyable time spent. On the other hand that we have to take care of the earth because is who maintain us and people we love alive , not just preserving it but doing things so fight against the problems.

What is your most memorable moment?

I have a memorable moment just few months ago, when I did a party in mother's day for mothers infected with Vih and then in children's day for children with Vih , and after the celebration that was all full of food, people, gifts, shows and people that really want to spent time and give some love, the mothers and children felt and encourage that were so grateful that make me feel a better person just watching them smiling, feeling love and enjoying the party that was made with all the possible love and dedication.

And some sad memorable moment I had also just weeks ago was that as I always took out of the hospital a boy of 8 years old to the cinema or to eat or buy stuff and he knew I was going to travel abroad to China, he started crying when arrive to the hospital and tell me that he loves me and that was afraid I never go back to see him , that really makes me feel sad in that moment and make conscious of how happy you can make a child just by giving a little of your time.

What is your environmental advocacy?

Preserving the forests and making campaigns and people conscious to plant and preserve what already exist as the forests are the lungs of the world.

Also To don't through trash in the floor and every time there is the opportunity to separate the removable and non removable I do it because is important to recycle and that everything can be re use ,also I try to be aware that people don't through garbage and if see it try to teach or take the trash away and put it in the place it have to be , also for me is very interesting to promote my country for it environment as we are rich in biodiversity and own a lot kind of animals and plants that other countries doesn't, finally some time ago I start to feel interested in the Yasuni project which is to preserve the national reserve yasuni park which is my principal project.
*Back to Miss Earth 2011 Delegates:
Batch A-D
|
Batch E-K
|
Batch L-P
|
Batch R-Z