Zandra Flores (Manaoag) - Miss Philippines Earth 2012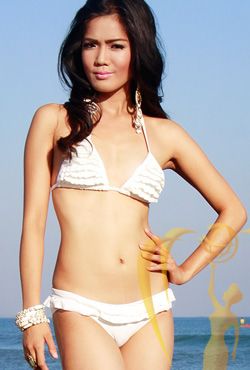 Miss Philippines Earth 2012

Municipality of Manaoag Pangasinan

Zandra Flores

Age: 22

Occupation: Biomedical Science Graduate at University of Bradford United Kingdom

DESCRIBE YOUR CHILDHOOD/GROWING YEARS (8-13 Years old)
From the age of 8-10, I was in a private Catholic institution in Manila, Philippines where I was very active with school activities. When I graduated I was voted and awarded "Artist of the Year". After graduating from elementary school, my parents then decided for us to move to England and I continued my life there from the age of 11 onwards. I have been able to adjust quickly with the new environment even though I could only speak minimal English at the time. That didn't hinder me from learning more about the English culture and the language itself. Due to my persistence in doing well at school in a foreign country, I won many awards in class. This made me to want to join Miss Earth and serve as an example for other aspiring beauty queens like myself.

WHAT LESSONS DID YOU LEARN FROM YOUR CHILDHOOD/GROWING YEARS?
I have learned that starting to work hard early on in life serves as a good foundation in becoming a better citizen. This discipline will influence others to be responsible and strive towards a good direction in life. Having to move to different countries and meeting multicultural societies helped broaden my understanding and perception about today's world. The experience taught me to distinguish right from wrong, and to be accountable for all my life decisions. Also, my parents taught me the value of hard work, which has made me become more independent at the age of 16. Handling my own personal burdens and valuing my education is a learning experience that became very important to me.

WHAT IS YOUR MOST MEMORABLE MOMENT?
When I was studying at the University of Bradford in England, I was independent and living away from my family. I worked at a nursing home nearby to cover my living expenses. At the same time, I went through an emotional breakdown because my relationship of six years ended abruptly, and the people I once regarded as good friends weren't there for me. I was left both emotionally and physically drained. Working with the elderly clientele then became my coping mechanism as they listened and supported me all throughout this trying time. They uplifted my spirit and inspired me to do well and go on with my life. I was able to start anew with friends who were both real and trustworthy. Altogether, because of this new experience, I have learned to be more cautious and careful in choosing friends and that there is nothing more important than your family. Whatever happens, your family will never fail to give you a helping hand when you need it the most.

WHAT IS THE MOST UNUSUAL THING YOU'VE EVER DONE
There are many unusual and random things I have done in my life. One would be jumping into the deep end of swimming pool at a children's party because I was confident that I could swim without having to learn how to. I almost drowned, but, luckily, was saved by my neighbor. Another incident happened when I was 10 years old. I was quite the "tomboy" then and I was sent to the guidance office for getting into a physical fight with boys.

WHAT IS YOUR AMBITION IN LIFE?
My ambition in life is to be the next Miss Philippines Earth so I can represent the Philippines and advocate ecotourism as a means to provide livelihood for our fellow Filipinos and promote Filipino culture and nature. I would also like to promote the place I love the most, Pangasinan, which is the home of the first Philippine national park and the Hundred Islands. I want to show that Pangasinan has its share of ecotourism destinations that my fellow Pangasinenses and Filipinos can be proud of.

WHAT IS YOUR ENVIRONMENTAL ADVOCACY AND WHY DID YOU CHOOSE THIS?
My environmental advocacies are: waste segregation and massive tree planting.

We should practice separating biodegradable from non-biodegradable wastes and promote the three "R's": Reduce, Re-Use, and Recycle because bio-degradable wastes can be converted into effective garden and farm fertilizers while non-biodegradable wastes can be converted into re-usable household materials like market bags. Tree-planting, on the other hand, helps convert carbon dioxide into the oxygen we all need to survive. This helps prevent global warming and restores the beauty of our beloved Philippines.

WHAT TIP CAN YOU SHARE TO PROMOTE SUSTAINABLE ENERGY FOR ALL?
There are many ways of promoting sustainable energy like the use of wind energy from windmills that can be found, for example, in Bangui, Ilocos Norte, Philippines. They use sustainable energy but do no harm to our environment because the energy comes from the wind. Another example is solar energy, which comes from solar panels that provide energy from sunlight. Last but not the least, is biogas, which is produced from the breakdown of organic matter such as dead plants, animal waste and kitchen waste. We should advocate the use of these sustainable energy resources because they help prevent global warming.
*
Back to Miss Philippines Earth 2012 Contestants