Kaylee Calaguas (West Coast) - Miss Philippines Earth 2012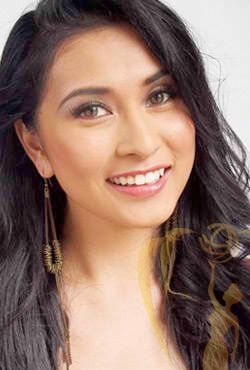 Miss Philippines Earth 2012

Filipino Community of USA West Coast

Kaylee Calaguas

Age: 19

Occupation: Model

DESCRIBE YOUR CHILDHOOD/GROWING YEARS (8-13 Years old)
When I was a little girl, I had always wanted a sister or brother. By the third grade, a little sister came to me as a Christmas gift. From that day on, I spent most of my days adoring my little sister- reading to her, feeding her and playing with her. I spent a lot of time trying to act like the older sister and show that I knew a lot of things (i.e. tying my shoes and rollerblading). At a young age, I was already trying to be a role model and set a good example. Besides this, I would read so much that I would get in trouble with my teachers and parents. I wrote stories and dreamed of them coming to life in a movie or in the form of a book.

WHAT LESSONS DID YOU LEARN FROM YOUR CHILDHOOD/GROWING YEARS?
I learned many lessons growing up. But two that stuck by me through all of the years were "always be yourself" and 'always live life with passion and to follow your dreams'. Seems very cliché, but growing up, I was a very hyper child and many people would scold me and tell me to change my ways. My parents stood by my side in every altercation -- every time I would get in trouble or spill the paint in class. I grew out of my hyper stage and channeled my energy into becoming an outgoing woman. I thank my parents everyday for believing in me and knowing that who I am is exactly who I should be.

WHAT IS YOUR MOST MEMORABLE MOMENT?
The most memorable thing that I've done was moving to the Philippines. It's very memorable because I've always loved Filipino culture and now, by living here, I get to experience it firsthand. It was mostly memorable because I came to the Philippines alone and came to make it my home. I had no prior friends here, but I was ready to take on another country and start a new adventure. It was my first time living alone or away from home, but I wanted to explore with my own eyes and taste the flavors of the land.

WHAT IS THE MOST UNUSUAL THING YOU'VE EVER DONE?
The most unusual thing I've ever done was join a pageant. I was 16 years old and a tomboy (sporty) when I first joined a pageant in LA and it was the most out-of-character thing for me to do. I had never worn makeup, heels, and I had dreaded every time my parents would make me wear a dress. But I was growing up and I wanted to learn more about that side of being a woman. So at a young age, I went headfirst into the glamorous world of pageantry, though I still kept my basketball shoes close by. I've loved the glitz and glam ever since.

WHAT IS YOUR AMBITION IN LIFE?
My ambition in life is to become a doctor. As a child, I've always loved the field of medicine and volunteered at the local Children's Hospital Los Angeles. I was in a special medical program in high school and was lucky enough to experience being an up-close observer in some of my uncle's surgical procedures. My ultimate dream would be to become like Dr. Oz. I admire how he promotes healthy living and shares the wealth of his knowledge with the world. I'm very passionate about knowledge and spreading it to people. It is my dream to put to use the knowledge that I've learned and to save lives in the process.

WHAT IS YOUR ENVIRONMENTAL ADVOCACY AND WHY DID YOU CHOOSE THIS?
When it comes to environmental advocacy, I choose a sustainable living for all. I believe that change is possible, especially within our own self. Change starts at home. If a person is taught how to conserve electricity, purify water, or even how to install solar panels, they are taking the first steps towards saving the environment. I was taught that it is better to teach a person how to fish rather than to give them fish.

WHAT TIP CAN YOU SHARE TO PROMOTE SUSTAINABLE ENERGY FOR ALL?
A tip I can give is that 'a little can go a long way', meaning that just by changing your light bulbs or turning off the lights before you leave the room, you can save money and conserve energy.
*
Back to Miss Philippines Earth 2012 Contestants