Mary Joyce Cruz (Rodriguez) - Miss Philippines Earth 2012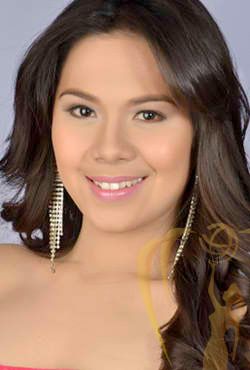 Miss Philippines Earth 2012

Municipality of Rodriguez Rizal

Mary Joyce Cruz

Age: 19

Occupation: BS HRM Student at Our Lady of Fatima University

DESCRIBE YOUR CHILDHOOD/GROWING YEARS (8-13 Years old)
I was an ordinary kid. In school, I used to joined different organizations, such as dance groups.

WHAT LESSONS DID YOU LEARN FROM YOUR CHILDHOOD/GROWING YEARS?
One of the most important lessons that I have learned during my childhood days is the importance of paying attention and being focused.

WHAT IS YOUR MOST MEMORABLE MOMENT?
What I consider one of my most memorable moments was the first time I ever joined a competition. I joined a singing contest in our school (high school) and won 1st place.

WHAT IS THE MOST UNUSUAL THING YOU'VE EVER DONE?
I can say that the most unusual thing I've done is when I dressed like a man for our activity in school. Though it was quite embarrassing, I knew I'd surpass the embarrassment since it was for a school activity anyway.

WHAT IS YOUR AMBITION IN LIFE?
My ambition in life is to finish my studies, to put up my own business, to be the next Miss Philippines EARTH and to provide a better living for my family

WHAT IS YOUR ENVIRONMENTAL ADVOCACY AND WHY DID YOU CHOOSE THIS?
My environmental advocacy is forest preservation and the massive rehabilitation of our nature. Since the Philippines is blessed with abundant natural resources, I think we should focus more on how we can preserve and regain the beauty of our nature. After all, we are all dependent on our mother earth.

WHAT TIP CAN YOU SHARE TO PROMOTE SUSTAINABLE ENERGY FOR ALL?
One tip that I can share is to unplug household appliances when not in use. We should also use alternative ways in doing our everyday chores depending on our natural skills and not just on electrical energy.
*
Back to Miss Philippines Earth 2012 Contestants