Jem Francelle Sanico (Catarman) - Miss Philippines Earth 2012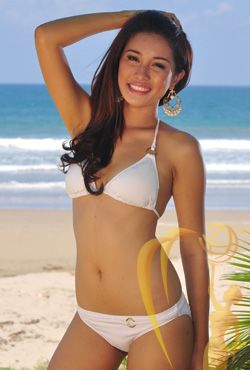 Miss Philippines Earth 2012

Catarman

Jem Francelle Sanico

Age: 21

Occupation: 2nd Year, AB Political Science Student at University of Eastern Philippines; Miss National SCUAA 2011

DESCRIBE YOUR CHILDHOOD/GROWING YEARS (8-13 Years old)
Way back, a typical weekend for us consisted of a spelling contest or an extemporaneous showdown. That was our idea of fun but mind you, it wasn't boring then. I grew up boyish - picking guns, spiders and running games over dolls and playing dress up. It was such a wonderful childhood and I will not mind repeating it again.

WHAT LESSONS DID YOU LEARN FROM YOUR CHILDHOOD/GROWING YEARS?
Growing up, I've learned a few lessons. First, when you want something, you have to work hard for it because nothing will be given to you on a silver platter. Second, life has no room for regrets. Once you've decided, accept the consequences. Lastly, sharing is not giving what you have in excess that's why it is also a sacrifice.

WHAT IS YOUR MOST MEMORABLE MOMENT?
There were many momentous events that I can mention, but what really struck me most was my first immersion at the Gawad Kalinga site. It may sound bad but it made me realize how I should be thankful for a lot of things because during the times I was complaining about how little I had, there were people very thankful for what little they've got.

WHAT IS THE MOST UNUSUAL THING YOU'VE EVER DONE?
I've researched for a cure to a chicken's colds.

WHAT IS YOUR AMBITION IN LIFE?
To make life a bit bearable by helping change or improve others' life conditions.

WHAT IS YOUR ENVIRONMENTAL ADVOCACY AND WHY DID YOU CHOOSE THIS?
I advocate planting more trees to help conserve the Philippine environment. As youth ambassador of the National Greening Program, we advocate that each volunteer plants 10 trees until 2016 to achieve the goal of planting 1.5 Billion trees in 1.5 Million hectares of Philippine forest land.

WHAT TIP CAN YOU SHARE TO PROMOTE SUSTAINABLE ENERGY FOR ALL?
Spreading awareness to citizens is an effective tool in promoting sustainable energy to all nations.
*
Back to Miss Philippines Earth 2012 Contestants