Abbygale Rey (Makati) - Miss Philippines Earth 2012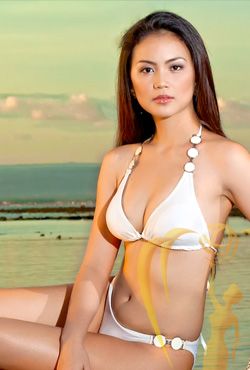 Miss Philippines Earth 2012

Makati City

Abbygale Rey

Age: 20

Occupation: BS in Commerce Major in Tourism Management

DESCRIBE YOUR CHILDHOOD/GROWING YEARS (8-13 Years old)
"Children have the ability or the desire to believe that anything can happen." I can relate to that since I am dreamer myself. I owe this to my mom who encouraged me to become one. As a child, I was never afraid to try new things. I even competed and joined various activities in and out of school. My father was an OFW and growing up with this was a challenge. It made me stronger, more responsible and more independent.

WHAT LESSONS DID YOU LEARN FROM YOUR CHILDHOOD/GROWING YEARS?
I learned to be brave and independent in making decisions for myself. I also learned to never stop believing that you can because, with determination, prayer and luck, nothing would be impossible.

WHAT IS YOUR MOST MEMORABLE MOMENT?
I did not have a grand celebration. I just stayed at home with family. But what made it special was the gift I received from my college friends: a scrapbook full of messages from almost all of my friends from the university. I was touched because of the effort it took to make all of them write on the scrapbook. Reading their messages was an inspiring and heartwarming experience.

WHAT IS THE MOST UNUSUAL THING YOU'VE EVER DONE?
I didn't sleep for two straight days to finish and comply with my school requirements.

WHAT IS YOUR AMBITION IN LIFE?
Aside from acquiring a doctorate, I want to write a book that would influence the younger generation to dream and to achieve their dreams.

WHAT IS YOUR ENVIRONMENTAL ADVOCACY AND WHY DID YOU CHOOSE THIS?
All environmental issues are connected. We need to choose which environmental problems we want to stand against and collectively do the best we can possible to save our home, the earth. And I am against global warming. In fight against global warming we need to go green: green energy and a green environment. Through our own little efforts, we can bring about huge changes, for we hold the future and it's up to us to make it a better place for the next generation.

WHAT TIP CAN YOU SHARE TO PROMOTE SUSTAINABLE ENERGY FOR ALL?
Since we are in the generation of social media, we can use the popularity of facebook, twitter, multiply, etc. to captivate the attention of the younger generation as well as the adults. This can help make people aware of the help they can give in saving the earth. Moreover, using social media as a tool would make the campaign for sustainable energy a visible one.
*
Back to Miss Philippines Earth 2012 Contestants