Bhertie Bagaporo (Iriga) - Miss Philippines Earth 2012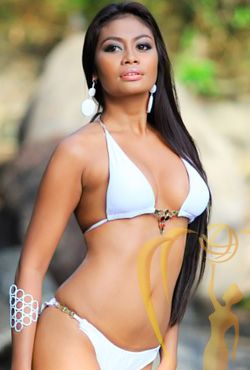 Miss Philippines Earth 2012

Iriga City

Bhertie Bagaporo

Age: 22

Occupation: Bachelor of Science in Nursing, University of Northeastern Philippines

DESCRIBE YOUR CHILDHOOD/GROWING YEARS (8-13 Years old)
I left Puerto Princesa City, which happens to be my first home. I'm a Palawena by birth. My parents decided to transfer to Bicol when I was 12 and I started joining pageants when I was 13. My growing years were really full of fun and trials.

WHAT LESSONS DID YOU LEARN FROM YOUR CHILDHOOD/GROWING YEARS?
No matter how young you are you must know how to adapt to the changes life throws at you. Like in my case, we've been through a lot even at my young age. It's already the reality that I'm facing. I'm grateful because I have strong faith in God and in my family. Together, we faced it and we're glad to survive. I'm so lucky to have a family that is strong with God as our source of strength.

WHAT IS YOUR MOST MEMORABLE MOMENT?
My most memorable moment is when I joined the highest and biggest pageant in Bicol, which is Miss Bicolandia 2007.I was 17 years old then and I landed as 3rd runner-up together with Miss Venus Raj as 2nd runner-up. What makes it more memorable is because Venus was there (we were roommates actually:) ). During that time I badly needed money for my sister, and I really prayed for it. I'm glad He gave it to me! Thanks to God!

WHAT IS YOUR AMBITION IN LIFE?
My ambition in life is to be a successful career woman in the future. Of course I want to have a happy life, a loving husband, kids and a stable job.

WHAT IS YOUR ENVIRONMENTAL ADVOCACY AND WHY DID YOU CHOOSE THIS?
"Let us make our environment GREEN again" - We are fast approaching a point of no return. We live in a very crucial time when choices must be made, choices involving our lifestyles, attitude and commitment. If we persist in continuing our dominating ways then we could destroy the resource base on which life depends. But if we choose to care for the earth, nurture it and live in harmony with it then we may be able to save the earth for our children and for our children's children. Let's make our environment green again.

WHAT TIP CAN YOU SHARE TO PROMOTE SUSTAINABLE ENERGY FOR ALL?
Let's all keep in mind that sustainable energy is something that the generations to come can still use without causing harmful repercussions.
*
Back to Miss Philippines Earth 2012 Contestants