Krystal Alonday (Paombong) - Miss Philippines Earth 2012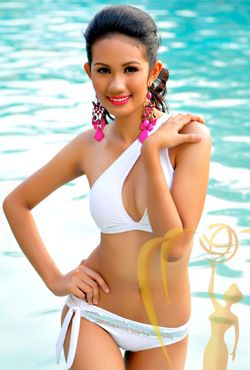 Miss Philippines Earth 2012

Municipality of Paombong Bulacan

Krystal Alonday

Age: 20

Occupation: BS Computer Engineering Student

DESCRIBE YOUR CHILDHOOD/GROWING YEARS (8-13 Years old)
I can say that I had a very happy childhood. Though, we had limited financial resources, we still managed to survive because of the limitless love of God.

WHAT LESSONS DID YOU LEARN FROM YOUR CHILDHOOD/GROWING YEARS?
I learned that in life, it's not all about doing the right things, sometimes you also have to do things for the right reasons.

WHAT IS YOUR MOST MEMORABLE MOMENT?
Being crowned as Bb. Bulacan-World 2011.

WHAT IS YOUR AMBITION IN LIFE?
To be a computer engineer and a beauty queen, so that I can reach out to more people. In that way, I can encourage them to join me in my advocacies.

WHAT IS YOUR ENVIRONMENTAL ADVOCACY AND WHY DID YOU CHOOSE THIS?
Proper Waste Management -- for me, it is of great importance to both rural and urban areas. Not doing this may bring danger to us in many ways and I'm sure everybody knows this. Time and again, people are always being educated about the importance of waste disposal. I believe that proper waste management education is important and should continue.

WHAT TIP CAN YOU SHARE TO PROMOTE SUSTAINABLE ENERGY FOR ALL?
I think we can make use of tides and geothermal heat, which are renewable and naturally replenished. We only have one planet, so it is our responsibility to take care of it.
*
Back to Miss Philippines Earth 2012 Contestants