Daniella Marisse Fernandez (Binan City) - Miss Philippines Earth 2012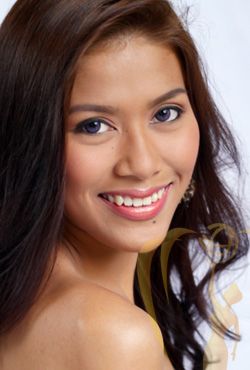 Miss Philippines Earth 2012

Biñan City

Daniella Marisse Fernandez

Age: 19

Occupation: 3rd year, AB Communications,University of Perpetual Help System - Laguna

DESCRIBE YOUR CHILDHOOD/GROWING YEARS (8-13 Years old)
Most of the people considered me as a competitor inside and outside school. I was trained to become a better person and part of it is my community. My parents protected me as if I was their only child. I had lots of friends and most of them loved me because I was honest, cheerful and thoughtful.

WHAT LESSONS DID YOU LEARN FROM YOUR CHILDHOOD/GROWING YEARS?
I've learned that I need to stand tall. I need to defend and protect my self and my family. You cannot trust anyone except for yourself. Lastly, I learned the importance of believing in one's capabilities and being true to oneself at all times.

WHAT IS YOUR MOST MEMORABLE MOMENT?
When I was given a chance to represent the country in the international competition in Malaysia and when I was crowned as the Miss Perpetual 2011.

WHAT IS THE MOST UNUSUAL THING YOU'VE EVER DONE?
The most unusual thing that I've ever done is to wake up late (9:00 am).

WHAT IS YOUR AMBITION IN LIFE?
My ambition in life is to become a known director of films and theater plays, as well as to become a news reporter someday.

WHAT IS YOUR ENVIRONMENTAL ADVOCACY AND WHY DID YOU CHOOSE THIS?
My advocacy states the promotion of Laguna de Bay as one of the tourist spots, in part of our governor's project and to create a project that will turn the water of Laguna de Bay into a hydroelectric source of energy in collaboration with the northeast monsoon wind.

WHAT TIP CAN YOU SHARE TO PROMOTE SUSTAINABLE ENERGY FOR ALL?
We need to know when to use things and when it is needed. Renewable energy can provide us an alternate supply but it never lasts for long. We need to know how to conserve and preserve what we have right now.
*
Back to Miss Philippines Earth 2012 Contestants