Lara Theresa Leones (Cainta) - Miss Philippines Earth 2012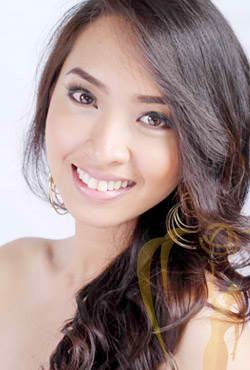 Miss Philippines Earth 2012

Municipality of Cainta Rizal

Lara Theresa Leones

Age: 24

Occupation: Software Engineer

DESCRIBE YOUR CHILDHOOD/GROWING YEARS (8-13 Years old)
I was the quiet type when I was younger. I was bullied then, but I grew out of it. I was not a very responsible student then as well.

WHAT LESSONS DID YOU LEARN FROM YOUR CHILDHOOD/GROWING YEARS?
I have learned that people should earn my respect. If they don't treat me with respect, they don't deserve my respect either.

WHAT IS YOUR MOST MEMORABLE MOMENT?
My most memorable moment is seeing the view of Coron after a long climb.

WHAT IS THE MOST UNUSUAL THING YOU'VE EVER DONE?
I'm not really a sporty person so the most unusual thing I've ever done is to mountain hike.

WHAT IS YOUR AMBITION IN LIFE?
My ambition in life is to be happy and reach contentment; to travel and learn things from all around the world; and have someone to share my life with. To live, laugh and love.

WHAT IS YOUR ENVIRONMENTAL ADVOCACY AND WHY DID YOU CHOOSE THIS?
My environmental advocacy would be "Small yet Sustainable". It is an advocacy regarding sustainable energy awareness, how people can help the environment in their own small ways, first by promoting sustainable energy, second by informing them on ways of how to actually incorporate it in their daily lives.

WHAT TIP CAN YOU SHARE TO PROMOTE SUSTAINABLE ENERGY FOR ALL?
Think reduce, reuse and recycle all the time. Simple tips but these can greatly help the environment.
*
Back to Miss Philippines Earth 2012 Contestants