Glennifer Perido (Tabuk) - Miss Philippines Earth 2012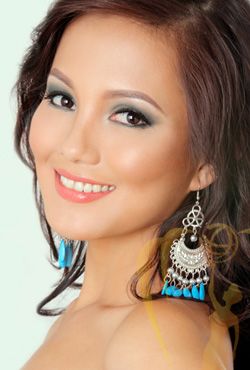 Miss Philippines Earth 2012

Tabuk City

Glennifer Perido

Age: 22

Occupation: Nursing Graduate

DESCRIBE YOUR CHILDHOOD/GROWING YEARS (8-13 Years old)
I grew up in the province of Kalinga with my grandmother and cousins since my mom was working abroad and my dad lived in Laguna. I used to sell meriendas like mangos, bananas, coconut and corn in school so that I'd have enough money for the next day. During my summer break I would also go with my aunt to sell food and clothes at the barrios in exchange for bananas and coconuts. These experiences are some of the things that molded me into who I am now.

WHAT LESSONS DID YOU LEARN FROM YOUR CHILDHOOD/GROWING YEARS?
I learned that we can survive only if we give importance to what God has given us. Instead of destroying our environment, why not use it for our survival and preserve it for the survival of the future generations?

WHAT IS YOUR MOST MEMORABLE MOMENT?
When I passed the Nursing Licensure Examination

WHAT IS THE MOST UNUSUAL THING YOU'VE EVER DONE?
Surviving the trauma of a hold-up incident that happened a night before my debut celebration is, for me, the most unusual thing I've ever done. It's very traumatic. At first I couldn't even go around by myself because I was really afraid they might get me, but I prayed and conditioned my mind not to allow myself to live in fear forever but to learn from it instead.

WHAT IS YOUR AMBITION IN LIFE?
To be able to help people without anything monetary in exchange is my ambition. That is the reason why I am not considering working abroad as a nurse to earn money.

WHAT IS YOUR ENVIRONMENTAL ADVOCACY AND WHY DID YOU CHOOSE THIS?
Green energy or renewable energy is the energy of the future. It is cost efficient and environment-friendly. It doesn't contribute much to greenhouse gas emissions, which is the main cause of climate change. I believe that we must harness the full utilization of renewable sources of energies.

WHAT TIP CAN YOU SHARE TO PROMOTE SUSTAINABLE ENERGY FOR ALL?
Let us go towards using solar panels, bio fuel, windmills and other sources of renewable energy, which are much favorable for us.
*
Back to Miss Philippines Earth 2012 Contestants