Glenna Christina Duch (Negros Occidental) - Miss Philippines Earth 2012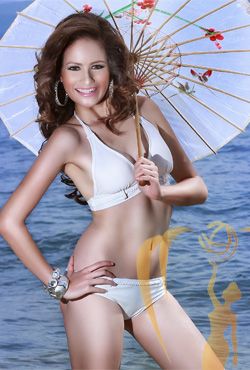 Miss Philippines Earth 2012

Province of Negros Occidental

Glenna Christina Duch

Age: 18

Occupation: Business Management Student from Siliman University

DESCRIBE YOUR CHILDHOOD/GROWING YEARS (8-13 Years old)
During my childhood years, I was focused on different activities to develop my personality and well-being. I danced ballet, played the piano and violin and consistently did well in school. I also enjoyed playing with my neighbors and engaging in indoor activities like playing with dolls. I was very shy as a kid.

WHAT LESSONS DID YOU LEARN FROM YOUR CHILDHOOD/GROWING YEARS?
My childhood has taught me the value of education. I am very happy that my mom was always very particular about having good grades and being diligent even at a very young age because now, as a college student, I don't have a hard time adjusting to the responsibilities and the workload.

WHAT IS YOUR MOST MEMORABLE MOMENT?
My most memorable moment was when my parents exposed me to travelling. Through these experiences, my eyes were opened to the many different cultures and beautiful places in the world.

WHAT IS THE MOST UNUSUAL THING YOU'VE EVER DONE?
Taking a leap of faith and choosing to travel all by myself to Europe just before i turned 18. Through this experience, I was able to prove to myself that I am brave and strong. I also stepped out of my comfort zone when I was game enough to brave the cold so i can enjoy the nature and the mountains in Norway -- hiking.

WHAT IS YOUR AMBITION IN LIFE?
I want to become a flight attendant, be successful in the business industry, and to live a life full of happiness, peace and love.

WHAT IS YOUR ENVIRONMENTAL ADVOCACY AND WHY DID YOU CHOOSE THIS?
I would initiate activities of tree planting and growing programs specifically in our province, which has been hit by two calamities recently: "Sendong" and the earthquake. I would create information awareness through seminars and workshops so that children may be taught the value of our mother earth. I am taking the informative approach in dealing with these problems we are facing. Environmental education is everyone's concern, so we need to educate our people, especially those in the rural areas.

WHAT TIP CAN YOU SHARE TO PROMOTE SUSTAINABLE ENERGY FOR ALL?
We should all be smart when it comes to maximizing what we have and saving energy when we can. Instead of driving too much, park your car in one place and walk. Not only are you saving oil, but you are also making yourself healthier. Save as much power and energy as you can. I also encourage the government and business establishments to utilize solar power.
*
Back to Miss Philippines Earth 2012 Contestants