Ellyz Lee Santos (Caloocan City) - Miss Philippines Earth 2012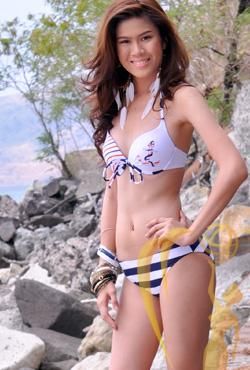 Miss Philippines Earth 2012

Caloocan City

Ellyz Lee Santos

Age: 19

Occupation: BS Pharmacy, Centro Escolar University Manila

DESCRIBE YOUR CHILDHOOD/GROWING YEARS (8-13 Years old)
My childhood years have not been like what other children experienced during their childhood days. I was not the typical kid who had a lot of time to play with other kids because my brother and I helped in our family drug store. My parents preferred we stay at home and to play with our toys or read our books. I didn't like it at first because I was young and I wanted to have fun with my friends. We did have our so-called childhood "barkada" but they later on moved to different places, so I seldom went outside. My brother and I used to call our cousins to come over. We played hide and seek, paper dolls, jumping rope, and there was also a time when we turned our house into a haunted house.

Some would usually tease me that I was like a nun when I was younger because I went to church in the morning and the afternoon every Sunday. I was even thinking of entering a convent but I realized that I was not born to be a sister, so I've decided to become a beauty queen or a model instead. I really did have a lot of dreams during my childhood.

In school, I had some crushes when I was in elementary and I can still remember that my favorite subject was Art. I believe that childhood is really the time where one is molded to become a woman.

WHAT LESSONS DID YOU LEARN FROM YOUR CHILDHOOD/GROWING YEARS?
I consider my childhood years to be very important years in my life. That period molded me to become who I am right now. I've learned that there are always reasons behind why our parents don't allow us to do this and that. They didn't allow me to play outside because they didn't want me to get hurt and they didn't want me to get distracted from my studies. My teachers used to tell us that we should be intelligent in everything that we do but what I've learned is that being wise is more important than being intelligent.

WHAT IS YOUR MOST MEMORABLE MOMENT?
My most memorable moment was with my grandfather. Actually, he wasn't my grandfather in blood but in soul. He was a jeepney driver and I used to go with him whenever he was plying his jeepney. He always gave me money when my mom wouldn't give me any and the times I spent with him were unforgettable. During my debut party, a part of me wished that he had been there to dance with me. Unfortunately, he died when I was just seven years old. The seven years I spent with him will never be forgotten.

WHAT IS THE MOST UNUSUAL THING YOU'VE EVER DONE?
Eating exotic food.

WHAT IS YOUR AMBITION IN LIFE?
My ambition in life is to be a successful pharmacist, and to help my fellowmen improve their lives. I also yearn for a clean, safe and green country.

WHAT IS YOUR ENVIRONMENTAL ADVOCACY AND WHY DID YOU CHOOSE THIS?
I advocate the use of recyclable materials. I choose this because I believe that waste products can still be useful in many ways. By making a used material into a new product we can reduce the destruction of raw materials, reduce air pollution and water pollution. It can also lower the production of greenhouse gases, which can lead to the so-called greenhouse effect.

WHAT TIP CAN YOU SHARE TO PROMOTE SUSTAINABLE ENERGY FOR ALL?
Unplugging all the household appliances, which are not in use (except for the refrigerator of course) because it reduces the usage of energy so it promotes sustainable energy for all.
*
Back to Miss Philippines Earth 2012 Contestants