Ariella Arida (Alaminos) - Miss Philippines Earth 2012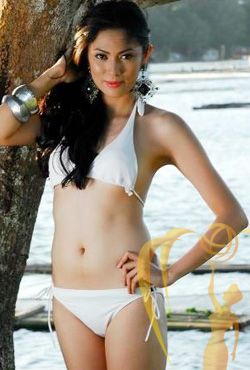 Miss Philippines Earth 2012

Miss Municipality of Alaminos Laguna

Ariella Arida

Age: 23

Occupation: Technical Sales Executive; Graduate, Bachelor of Science in Chemistry - University of the Philippines

DESCRIBE YOUR CHILDHOOD/GROWING YEARS (8-13 Years old)
Childhood has been one of my greatest memories in life. It was during those days when I became active and exposed to different extra-curricular activities. I started to sing, dance and also act. That was the time that I started exploring not only my skills, but also my so-called "talent". In connection to dancing, I was an active member of drum and lyre band for four years. And it was during my last two years in the band when I became the lead majorette. That was a challenging role for me as a kid, since directing a whole group to follow is quite tedious. Childhood years have also given me the chance to bring out the athletic side of myself. I have been part of the volleyball team in our school for five years and I also became the captain ball of the group. I was lucky to be chosen to represent the team Laguna for STRAA (STCAA now) but I refused to join since I was a candidate then for the honor list. I am so thankful that I have experienced all the joy and fun that a kid could have experienced in his/her childhood days because these experiences have brought me now to what and who I am today.

WHAT LESSONS DID YOU LEARN FROM YOUR CHILDHOOD/GROWING YEARS?
From all the experiences I have been through, I have learned that not all things come that easily. Hard work and determination is the key to achieve one's goal. I would not be in my position right now if not for of that. Yes, I was already taught to work hard even as a kid. I also learned the value of studies because it is the key to a successful future. I am also thankful for the discipline I got from my parents because it led me to follow the right path. These childhood years helped me mingle with good old and new friends and made me more understanding of the different kinds of people and personalities, giving me a bubbly, open-minded aura and a personality that can easily deal with everyone.

WHAT IS YOUR MOST MEMORABLE MOMENT?
My most memorable moment in my life was when I finished college. I felt mixed emotions when I finally got my diploma. I know how hard it was for me to achieve this and this is one of my greatest ambitions in life.

WHAT IS YOUR AMBITION IN LIFE?
I know one of my ambitions in life has already been fulfilled and that is to finish my studies. Now, what I am looking forward to for myself is to be successful in all the careers that I decide to pursue. Having a chemistry degree and doing pageants or extra-curricular activities on the side is quite difficult because a jack of all trades is a master of none. But I do believe that with passion and determination nothing would be impossible.

WHAT IS YOUR ENVIRONMENTAL ADVOCACY AND WHY DID YOU CHOOSE THIS?
"Be Green and Clean"
I have chosen this advocacy in relation to the theme for this year regarding sustainable energy. I believe that it's the time for us to pay more importance to the usefulness of our surroundings. especially all the renewable resources that could be found in our environment. I want to share this advocacy to extract, generate and consume all the possible green energies for the benefit of mankind. We all know that our nature has its own natural way of recovering so this means pollution could be eradicated. It also means that the emission of greenhouse gases, which we all know is harmful not only to the environment, but also to our health could be lessened. So here goes my advocacy: "BE GREEN AND CLEAN"

WHAT TIP CAN YOU SHARE TO PROMOTE SUSTAINABLE ENERGY FOR ALL?
Love our environment because through loving it, we will find and appreciate the beauty within it.
*
Back to Miss Philippines Earth 2012 Contestants