Jennifer Edytha Japor (Lucena) - Miss Philippines Earth 2012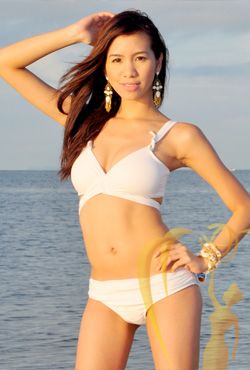 Miss Philippines Earth 2012

Lucena City

Jennifer Edytha Japor

Age: 21

Occupation: 3rd year, BS Administration at Manuel S. Enverga University Foundation

DESCRIBE YOUR CHILDHOOD/GROWING YEARS (8-13 Years old)
I was enrolled in a Catholic school since our family moved from Indonesia. My eyes were open to reality at an early age. Our school promotes a bundle drive each year where we, students, get to participate through donating old clothes, rice, canned goods, and toiletries to unfortunate families in our city. Every Christmas holiday we give all the materials we have collected to distribute them. I personally can see in their eyes how thankful and happy they were to have us. They've always welcomed us with warm smiles. I do believe that it's important for each one of us to give back all the blessings we receive through charity work. Through this, we could be effective instruments of God's love.

WHAT LESSONS DID YOU LEARN FROM YOUR CHILDHOOD/GROWING YEARS?
My brother and I grew up under the guidance of our grandparents in the Philippines. They are devoted Catholics – serving in our parochial. Whenever I feel down, they've always told me that prayers answer all. God gave us trials and tribulations to make us stronger. They've also taught me to always love my family especially my father and my brother. I remember a quote that my grandfather shared with me that, until now I always put into perspective: When life gives you a hundred reasons to cry, you show life that you have a thousand reasons to smile.

WHAT IS YOUR MOST MEMORABLE MOMENT?
My most memorable moment would have to be the time when I was crowned as Binibining Pasayahan (Binibining Lucena) in 2010. That was the time when I became a household name in our city. I had the great opportunity to promote Lucena City during my reign through advertisement and television. I am able to see the showcased talents and cultures of the Lucenahins. At the same time, the Pasayahan festival promotes tourism, which is important in the economic development of our country. And that, I conclude, are one of the many of the reasons why we must be proud of Lucena City.

WHAT IS THE MOST UNUSUAL THING YOU'VE EVER DONE?
For the last couple of years, our household has been participating in the annual campaign of the World Wildlife Fund – "The Earth Hour." Partaking in the campaign itself already shows partnership among the people. Together, we make a stand. If we can sow goodness in our community, we can sow goodness in Mother Nature as well.

WHAT IS YOUR AMBITION IN LIFE?
Whenever I think of my ambition in life, I think about the good of others. Other than taking home a title and a crown, the main reason why I join pageants is because I want to be an effective role model to my fellow youth. I want to inspire others through sharing my stories; that life itself has lots of wonderful things to offer. And at the same time, through this, I am able to experience how beautiful life could be through helping others.

WHAT IS YOUR ENVIRONMENTAL ADVOCACY AND WHY DID YOU CHOOSE THIS?
Since I live in Quezon Province, my environmental advocacy lies in the protection of the Philippine forests. I believe that trees are the symbols of both hope and life. Trees help alleviate man-made disasters including flood, landslides, and pollution. We must encourage others to plant one tree at a time. And now I would like to give all of you a piece of advice: Remember that the little things we save and preserve today would a big help for Mother Nature tomorrow.

WHAT TIP CAN YOU SHARE TO PROMOTE SUSTAINABLE ENERGY FOR ALL?
Did you know that there is only a 3% need of the global investment in the energy sector by the next two decades to achieve energy access for all? United Nations declared 2012 as the year for Sustainable Energy. We must work hand in hand to promote and to educate the importance of Renewable Energy – solar, wind, and biomass – to mitigate climate change, combat global warming, and reduce pollution. We all must be able to wake up one day and realize that every one of us deserves light.
*
Back to Miss Philippines Earth 2012 Contestants