Valerie Gail Garcia (Pasay) - Miss Philippines Earth 2012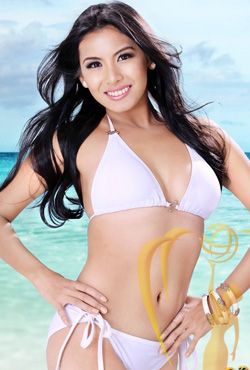 Miss Philippines Earth 2012

Pasay City

Valerie Gail Garcia

Age: 24

Occupation: Account Executive

DESCRIBE YOUR CHILDHOOD/GROWING YEARS (8-13 Years old)
We are a close-knit family with lots of family reunions. We grew together in Church wherein we were active in the ministry.

WHAT LESSONS DID YOU LEARN FROM YOUR CHILDHOOD/GROWING YEARS?
One important lesson that I learned from childhood is the importance of staying close to our relatives and helping each and every member with unconditional love. Another important lesson that I learned is obeying the elderly and listening intently to our parents.

WHAT IS YOUR MOST MEMORABLE MOMENT?
My most memorable moment was when I surprised my mother on her 50th golden birthday celebration. The look on her face and the tears from her eyes at that moment, for me, was priceless!

WHAT IS THE MOST UNUSUAL THING YOU'VE EVER DONE?
The most unusual thing I have ever done was to jump the falls in Camiguin and have that body of water hit my head. It felt like being hit by a heavy rock. The pressure of the falls was exhilarating.

WHAT IS YOUR AMBITION IN LIFE?
My ambition in life is to be a blessing to my family and my closest friends by setting a good example as a follower of God, and by helping my community with the resources that I have. I shall plant seeds and make them grow, and with that I know I have succeeded in life.

WHAT IS YOUR ENVIRONMENTAL ADVOCACY AND WHY DID YOU CHOOSE THIS?
My environmental mission statement is utilizing our natural resources and conserving Mother Earth with a refreshed, renewed and relived lifestyle.
I chose this advocacy because we are faced with depleting resources and as stewards of the Earth, we are called to take care of what was given to us. It is our responsibility to handle our God-given resources and share it with others. We shall attain this by starting with ourselves. We have to be refreshed for us to stay aware of our surroundings, renewed for us to grow, and relived to create a better world for us all.

WHAT TIP CAN YOU SHARE TO PROMOTE SUSTAINABLE ENERGY FOR ALL?
What we can do is to raise awareness to enlighten the masses that there is sustainable energy for all. We should have the rich commit to finding a way to make sustainable energy available for all. This way, we can build good foundation amongst divisions. In fact, we all have a right to clean, efficient and sustainable energy.
*
Back to Miss Philippines Earth 2012 Contestants