Christina Jana Siratnanont (Bantay Ilocos Sur) - Miss Philippines Earth 2012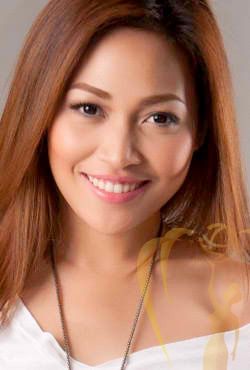 Miss Philippines Earth 2012

Municipality of Bantay Ilocos Sur

Christina Jana Siratnanont

Age: 25

Occupation: Ilocos Sur Provincial Tourism Officer in Charge

DESCRIBE YOUR CHILDHOOD/GROWING YEARS (8-13 Years old)
I surrounded myself with people who could influence me with music. During these times I was into pop and rock music. I also felt like this awkward and shy, tall girl. I was never really allowed to go out and my curfew was at 5 PM.

WHAT LESSONS DID YOU LEARN FROM YOUR CHILDHOOD/GROWING YEARS?
Enjoy life while you are still young. You should live life to the fullest and never take things for granted because sometimes, opportunities only knock on your door once. You'll never know what you've got till it's gone.

WHAT IS YOUR MOST MEMORABLE MOMENT?
Joining and winning beauty pageants.

WHAT IS THE MOST UNUSUAL THING YOU'VE EVER DONE?
I have let some opportunities slip away even if I really wanted them so bad. And I also joined activist groups way back in college, fighting for equality and fairness for us students.

WHAT IS YOUR AMBITION IN LIFE?
To become a successful person who's happy and content with whatever she has in life, to be surrounded by my family and friends and to become rich and famous.

WHAT IS YOUR ENVIRONMENTAL ADVOCACY AND WHY DID YOU CHOOSE THIS?
The 3 R's: Reuse, Reduce and Recycle. I believe that it can make a huge difference if we all learn to discipline ourselves and become aware that a lot of problems and calamities can be prevented by proper waste disposal.

WHAT TIP CAN YOU SHARE TO PROMOTE SUSTAINABLE ENERGY FOR ALL?
Preserve ecological balance and conserve energy by lessening our consumption of it. The old and traditional ways and going back to the basics can help us achieve sustainable energy and utilize whatever available resources we have. I hope the government promotes the importance of biofuel as a substitute for the regular ones that pollute the air we breathe.
*
Back to Miss Philippines Earth 2012 Contestants