Mister World 2010 Sports Winner is Josef Karas of Czech Republic
Mister Czech Republic, Josef Karas
won the Sports fast track competition for the Mister World 2010 pageant. Contestants were pushed to their limits with press ups, sit ups, squat thrusts and other timed circuit training.
The finalists were announced ten given a few hours to rest before facing the beach race in the afternoon. It consisted of a 300 metre track set up on the sandy surface, specially chosen to sap the energy from the leg muscles.
It was a close contest but Czech Republic held the initiative throughout and it was no surprise to see him cross the line in first place. He was followed three seconds later by Norway who also ran terrifically. But it was the fight for third place where the race really came to life.
In the last five metres third place changed three times. It looked like South Africa had the podium position before he tried to run faster than his legs could take him and fell flat on his face. Then Cyprus took the position but stumbled a mere metre away from the finish line. He couldn't stay on his feet and much like South Africa before him, ended up with a mouth full of sand. This flurry of excitement at the death allowed Malta to steal in and snatch third place.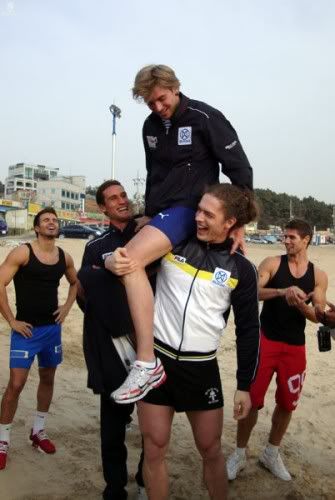 Complete Results:
* Sports Fast Track Winner:
Mister Czech Republic, Josef Karas
* 2nd place:
Mister Norway, Chris Eileng
* 3rd place:
Mister Malta, Mark Spiteri
Rest of the Top 8 Semi-Finalists:
*
Mister South Africa, Jaco de Bruyn
*
Mister Thailand, Rattasat Rungsirithip
*
Mister Belarus, Mihail Baranov
*
Mister Cyprus, Christos Christodoulides
*
Mister Mexico, Alvaro Alvarez
Rest of the Top 20 Semi- Finalists:
*
Mister Russia, Sergey Kolenchikov
*
Mister Spain, Guillermo Garcia
*
Mister Sweden, Alexander Shirpey
*
Mister Angola, Jorge Martins
*
Mister Azerbaijan, Hafiz Aghayev
*
Mister Brazil, Jonas Sulzbach
*
Mister Denmark, Kevin Skroder
*
Mister Honduras, Carlos Orantes
*
Mister India, Inder Bajwa
*
Mister Kazakhstan, Roman Mironov
*
Mister Macedonia FYRO, Ivan Niksik
*
Mister Panama, Hector Villareal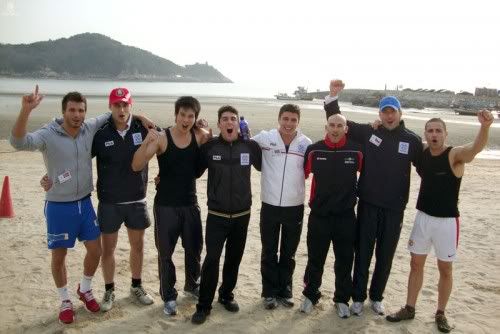 * See Mister World 2010 Contestants Batch
A-D
/
E-K
/
L-P
/
Q-Z
* Fast Track Winners:
Talent
/
Top Model
/
Sports
*
Mister World 2010 Winner is Kamal Ibrahim, Mr. Ireland
*
Watch Mister World 2010 Pageant Online