Mister World 2010 Winner is Kamal Ibrahim, Mr. Ireland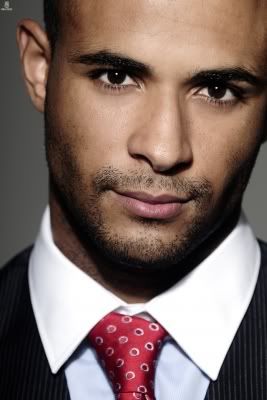 Mister Ireland, Kamal Ibrahim
won the title of Mister World 2010 in a beauty pageant held on March 27 in Incheon, Korea.
'My family is going to be so proud. I just can't wait to get back home and see them" said the new Mr World 2010.
During the two week build up to tonight's final they were put through their paces with extreme fitness tests, learned to cook Korean style and had Tae Kwon Doe lessons from a black belt master. They also visited stunning palaces, temples and the national museum, immersing themselves in the local culture.
During their time in Korea, the Mr World contestants toured the country. During their travels around Korea, they competed in three fast track events, where the winner was automatically placed in the top fifteen. Korea was judged to be the most talented with his singing performance of the song 'Only Once', which won him the Talent Final competition in Gyeong ju. The Sports Final champion was Czech Republic, no surprise as he's a former professional biathlete! The Top Model Final was very special as the contenders modelled clothes designed by Andre Kim, Korea's most celebrated designer. Brazil took home the accolade in front of international media at the Hyatt Regency Hotel, Incheon.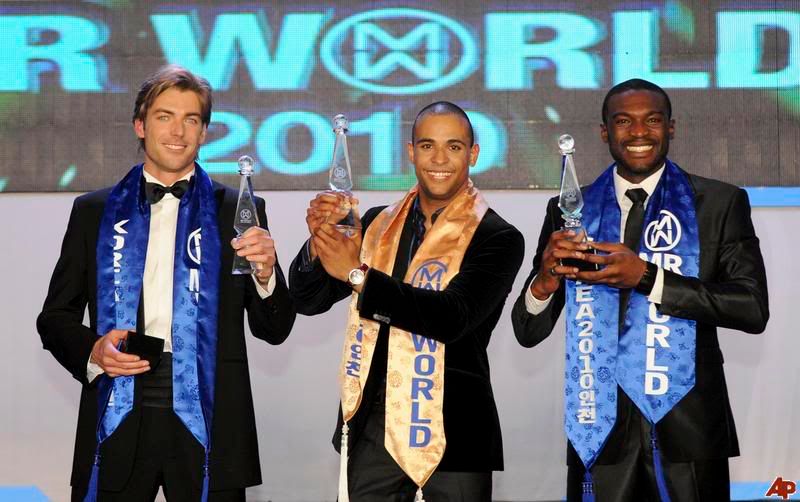 1st run-up title went to
Mister Czech Republic, Josef Karas
. While the 2nd run-up was
Mister Nigeria, Kenneth Okolie
. Rounding out the top 5 finalists were
Mister Lebanon, Abdel Balaa
and
Mister Netherlands, Honza Jan Filipi
.
Rest of the top 15 semi-finalists were:
*
Mister Brazil, Jonas Sulzbach
*
Mister Germany, Michael Piechler
*
Mister India, Inder Bajwa
*
Mister Guadeloupe, Emmanuel Binga
*
Mister Greece, Lampros Danas
*
Mister Mexico, Alvaro Alvarez
*
Mister Northern Ireland, Matthew Poole
*
Mister Wales, Jonny Rees
*
Mister Venezuela, Jose Manuel Flores
*
Mister Korea, Ji Kwang Yoo
The panel of celebrity judges at the Mr World 2010 Final was:
* Julia Morley - MWO Chairman, President of Variety International, the Children's Charity and Chairman of the Mr World Judges
* Tom Nuyens - Mister World 1996 – the first title holder and a successful model, from Belgium
*
Zhang Zilin
-
Miss World 2007
, now face of L'Oreal and
Swarovski
, from China PR
*
Ksenia Sukhinova
-
Miss World 2008
, top model and celebrity, from Russia
* Andre Kim - World famous and Korea's most celebrated designer
* Krish Naidoo -
Miss World
Organisation International Ambassador
*
Kaiane Aldorino
- Reigning
Miss World 2009
from Gibraltar
*
Joo-ri Kim
-
Miss Korea 2009
, who represented
Korea
at
Miss World 2009
* See Mister World 2010 Contestants Batch
A-D
/
E-K
/
L-P
/
Q-Z
* Fast Track Winners:
Talent
/
Top Model
/
Sports
*
Watch Mister World 2010 Pageant Online