Maria Selena was crowned Puteri Indonesia 2011
21 year old Miss Central Java, Maria Selena from Semarang was crowned as the newest Puteri Indonesia 2011 or internationally known as Miss Universe Indonesia 2011 contest which was held last October 7 at the Ritz Carlton hotel in Jakarta.

Crowning Maria Selena was Puteri Indonesia 2010, Nadine Ames and the reigning Miss Universe 2011, Leila Lopes from Angola. Among the panel of judges that night was Puteri Indonesia 2004 and top 15 quarter finalist in Miss Universe 2005, Artika Sari Devi.

Maria Selena stands 1.76 m tall and will be the official entry of her country in Miss Universe 2012 next year.

The 1st run-up was Miss East Java, Liza Elly Purnamasari. She will compete in Miss International 2012.

2nd run-up was Miss South Sulawesi, Andi Tenri Natassa. She will enter the Miss Asia Pacific World 2012 competition.

Miss North Sumatra, Sabrina Chairunissa and Miss Yogyakarta, Dinda Rizky Hutari completed the top 5 finalists.

Rest of the top 10 semi-finalists were: Annisa Ananda Nusyirwan (West Sumatra), Annisa Putri Ayudya (Jakarta 2), Faradina Mufti Rachmawati (Jakarta 5), Asri Silva Shorea (East Kalimantan) and Saskia Florencia Nanluhy (West Papua).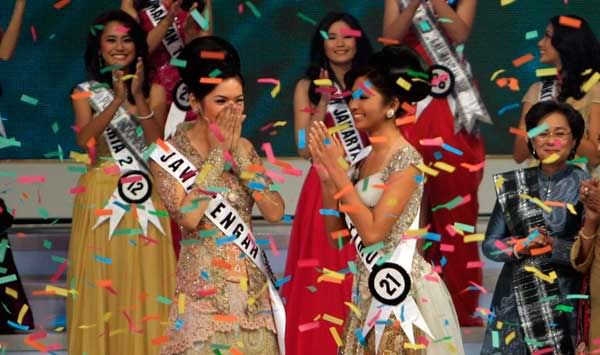 *
Puteri Indonesia 2011 Candidates