Vania Peneva (Bulgaria) | Miss World 2011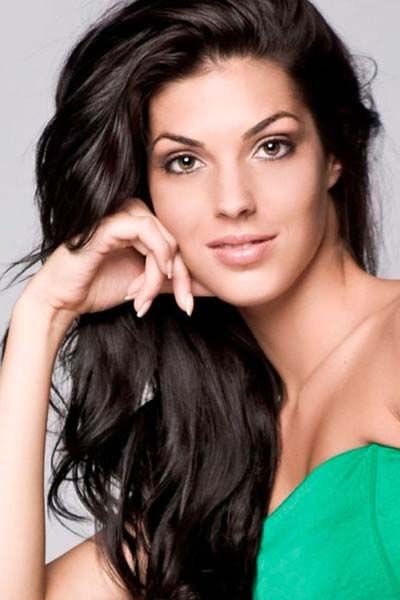 Miss World 2011
Candidates | Contestants
Profile
Miss Bulgaria
Vania Peneva
Age: 23
Height: 1.78m
Hometown: Kazanlak
Language(s): Bulgarian, English & Russian
Notes: Vania Peneva is the reigning Miss Bulgaria 2011. She also competed in Miss Tourism Queen International 2007 beauty contest.
BIOGRAPHY
Vanya is studying Bulgarian Philosophy at University and hopes to become a journalist. She describes herself as positive, sensitive and ambitious. In her spare time, she enjoys going fishing with her father.
Interview
Tell us a little something about your Country ?
Katanlak is situated in the Valley of Roses where rose oil (as expensive as gold) is produced.
Future ambitions ?
I want to be a journalist. I'm interested in politics and social activities.
Describe yourself
The most important thing to me is family and friends. I'm a very positive, sensitive and impulsive person – a dreamer who believes in miracles.
Personal Motto?
I can!
Favourite food ?
I adore the traditional Bulgarian kitchen. My favourite dish is the Bamica with yogurt. I also like sushi and seafood.
Favourite Music / Books ?
I am a big fan of Umberto Totti, Tiziano Ferro and the Russian group, Lubeh. My favourite book is 'Anna Karenina' by Tolstoy.
Do you have any pets ?
Yes, I have a Persian cat named Erika.
What is the proudest moment of your life or most memorable day?
In 2007, I became the Queen of the Valley of Roses in my hometown which is a very important title in Bulgaria.
Special Talents ?
I love gardening, especially growing roses.
Any other interesting facts ?
I love travelling and meeting new people. I can always see something nice in everyone. People find me positive, helpful and sensitive.
* Back to Miss World 2011 Delegates:
Africa
|
Americas
|
Asia & Oceania
|
Caribbean
|
Europe