Puteri Indonesia 2011 Contestants
Miss Universe Indonesia 2011 or locally known as Puteri Indonesia 2011 is celebrating it's 16th year, will held in the Ritz Carlton hotel in Jakarta on October 7. Thirty eight of the most beautiful woman all over Indonesia will compete for the coveted crown which was currently worn by the outgoing Puteri Indonesia 2010, Nadine Ames.

The winner will represent Indonesia in Miss Universe 2012. The 1st run-up will compete in Miss International 2012. And the 2nd run-up will enter the Miss Asia Pacific World 2012 next year.

Leila Lopes, the reigning Miss Universe 2011 will also attend the event and crown the winner.

Meet the 38 lovely candidates of Puteri Indonesia 2011: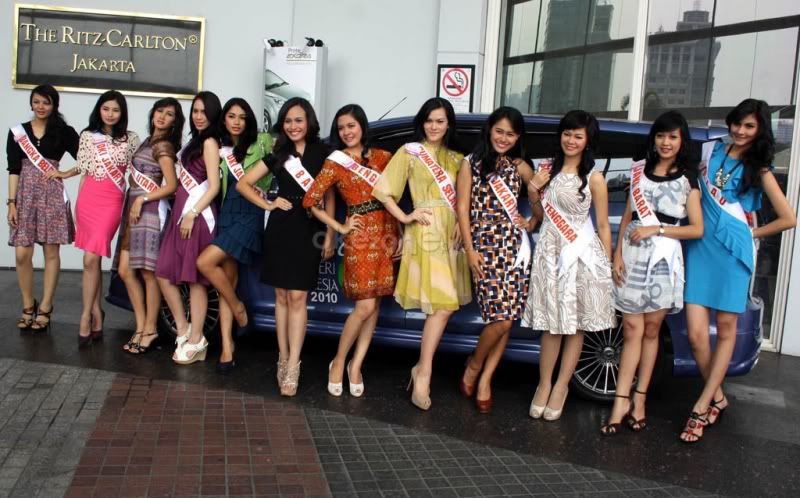 Miss Aceh
Lisya Nurrahmi



Miss North Sumatra




Miss West Sumatra
Annisa Ananda Nusyirwan



Miss Riau
Debby Komala Sari



Miss Riau Islands
Bella Fatma Pratiwi



Miss Jambi
Eka Yuni Wulandari



Miss South Sumatra




Miss Bangka-Belitung Islands
Nur Rahma Umami



Miss Bengkulu
Winda Hariyanti Hasan



Miss Lampung
Adinda Putri Mirsyah Arini



Miss Jakarta 1
Nadia Sekar Yasmine



Miss Jakarta 2
Annisa Putri Ayudya



Miss Jakarta 3
Dinantiar Anditra



Miss Jakarta 4
Wimmy Sunarto



Miss Jakarta 5
Faradina Mufti Rachmawati



Miss Jakarta 6
Rieka Nur Asy Syam



Miss Banten
Rahajeng Sekar Putri



Miss West Java
Shinta Indra Maya Sari Sinaga



Miss Central Java
Maria Selena



Miss Yogyakarta
Dinda Rizky Hutari



Miss East Java
Liza Elly Purnamasari



Miss Bali
Anak Agung Istri Karina Manik



Miss West Nusa Tenggara
Yulfa Rizki Amita



Miss East Nusa Tenggara
Julia Stevanny Esther Tahri Blegur



Miss West Kalimantan
Miranda Surya Wardhany



Miss South Kalimantan
Ninggar Ayu Neswari



Miss Central Kalimantan
Neny Khurnaini Irianty



Miss East Kalimantan
Asri Silva Shorea



Miss South Sulawesi
Andi Tenri Gusti Hanum Utari Natassa



Miss West Sulawesi
Ade Apriliany Tahir



Miss Southeast Sulawesi
Rizky Fitriyani Rustam



Miss Central Sulawesi
Iselly Ranindaya Oktavia Tandawuya



Miss North Sulawesi
Monica Septiani Satriawan



Miss Gorontalo
Deacy Widya Hayer Luawo



Miss Maluku
Audry Gabrielle Marsha Tentua



Miss North Maluku
Sasmita Abdurahman



Miss Papua
Herllyn Paula Mambai

Miss West Papua
Saskia Florencia Nanluhy
*
Who was crowned Puteri Indonesia 2011?