Tashanna Cherise Annette Parris | Miss Barbados World 2010 Candidate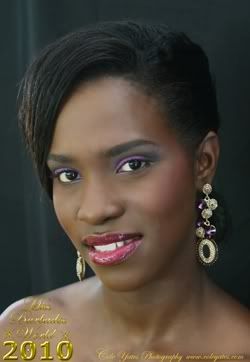 Miss Barbados World 2010 Beauty Pageant
Contestants

Name: Tashanna Cherise Annette Parris
Age: 20
Statistics: 33 - 27 - 37
Height: 5' 8"
Weight: 120 lbs

Educational Background: St. Mary's R.C. Primary School, Princess Margaret Secondary School

Occupation: Business owner

Aspiration: My greatest aspiration in life is to see my self in the light of beauty as the true person that I am, potential, talent, and all. Though our first instincts about our inner selves are usually correct, moods do have reflections too. To really recognize our talents and attributes allows us rely on those traits at different times in life. Thus, self promotion and accomplishments arrive. Therefore, personal satisfaction is achieved and the most beautiful of self is attained.

Philosophy: To be all that I can be

Hobbies: Reading, Going to the Beach, Going to the Movies, Traveling, Shopping, Modeling, Listening to music and Surfing the net, Reading: Suspense, Thriller, Romance.
*
Miss Barbados World 2010 Candidates