Miss Universe Canada 2010 winner is Elena Semikina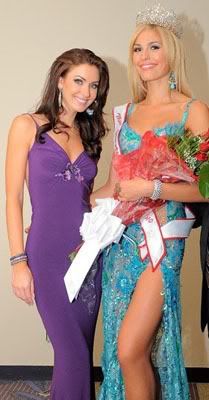 26 year old model
Elena Semikina
from Toronto was crowned as the new Miss Universe Canada 2010 in a pageant held on June 14 at the Metro Toronto Convention Center. She was crowned by the reigning
Miss Universe Canada 2009, Mariana Valente
. Also present at the event was
Miss Universe
2005, Natalie Glebova.
The 1st runner-up was
Aleksandra Malkin
, while the 2nd runner-up was the Cree community representative,
Ashley Callingbull
.
Neda Derakhshanfar
and
Zarah Al-Aubiydy
completed the Top 5 finalists.
Elena Semikina
stands 1.86m tall and she will represent her country at the
Miss Universe
2010 beauty pageant on August 23 to be held in
Las Vegas, Nevada, USA
.
As a new trend in beauty pageants, this year edition of Miss Universe Canada was not free of controversy. Yemeni-born
Maria Al-Masani
made headlines when declaring she would cover herself up during the swimsuit competition; then, newscasts had a field day when contestant
Tiffany Munro
linked poverty and malnutrition with Africa; and finally,
Sophie Froment
, from Montreal, was disqualified after it was discovered she shot a video campaign -nude- for a website that encourages extramarital affairs.
* Miss Universe Canada 2010 Candidates:
Page 1
/
Page 2
/
Batch 3