Lauren-Eve Rowley | Miss Wales 2010 Finalist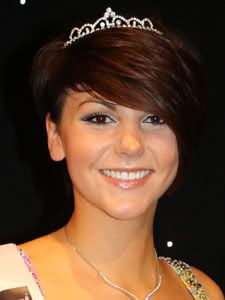 Miss Wales 2010 Beauty Pageant

Candidates
Name: Lauren-Eve Rowley
Age: 21
Hometown: Deeside

Bio: Winning the title of Miss Flintshire in November was a wonderful moment and a memory, which I will treasure for a long time. If it wasn't for the encouragement of my Nana I would never have even considered entering and I am so glad I have made her, along with my family and friends, proud of my success. From the competition I have gained an overwhelming sense of achievement and I believe the beauty with a purpose ethos of Miss Wales, empowers all the young women involved to reach their goals and aspirations in life. Fundraising for the Joshua Foundation has been a highlight of my year as Miss Flintshire; I have been fortunate enough to raise over a thousand pounds so far for a very worthy cause. Recently I have teamed up with Katharine, a fellow finalist, which has been an enjoyable and worthwhile venture. I am a final year trainee teacher studying in Bangor University and have spent three years meeting and working with some fantastic people. My passion is education; motivating and enthusing children to become life-long learners with vision for a fairer future.
* Contestants:
Batch 1
/
Batch 2