Simonne Kasandra Coppin | Miss Barbados World 2010 Candidate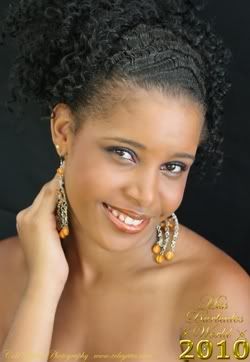 Miss Barbados World 2010 Beauty Pageant
Contestants

Name: Simonne Kasandra Coppin
Age: 18
Statistics: 36 - 29 - 41
Height: 5' 9"
Weight: 130 lbs

Educational Background: 10 Caribbean Examinations Council General Certificates

Occupation: Customer Service Representative at The Barbados National Bank

Aspiration: To be a successful entrepreneur

Philosophy: Every purpose has its reason and every reason has its purpose. Never question life, just live it.

Hobbies: shopping, modeling, surfing the internet, reading, listening to music and going to the beach.
*
Miss Barbados World 2010 Candidates