Riza Santos - Canada | Miss World 2011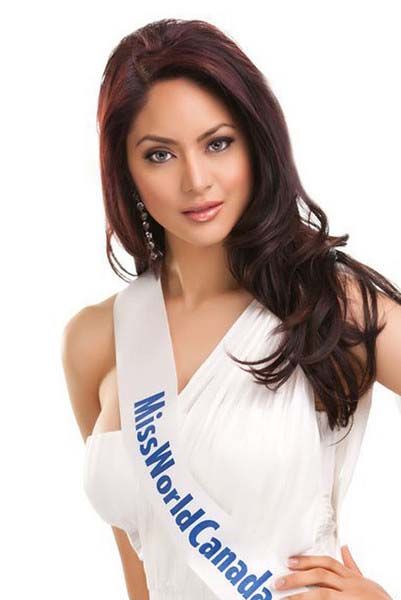 Miss World 2011
Candidates | Contestants
Profile
Miss Canada
Riza Raquel Santos
Age: 23
Height: 1.70m
Hometown: Calgary
Language(s): English, French & Tagalog
Notes: Riza Raquel Santos is the reigning Miss World Canada 2011. She also competed representing Canada in Miss Earth 2006 beauty competition.
BIOGRAPHY
Riza is currently studying for a degree in engineering at University. She has completed the Canadian forces army reserve military qualification and would like to become a commissioned officer in the near future. Hobbies include: singing and song writing.
INTERVIEW
Future ambitions ?
To design, innovate and research as a biomedical engineer. I would like to continue my international volunteer work as President of the Coastal Protection Foundation. I would like to be a well known singer.
Describe yourself
My life is my honour and my honour is my life. I live my life by example and exemplify integrity, sincerity, respect and love.
Personal Motto?
It is better to be prepared without an opportunity, than to have an opportunity and not be prepared.
Favourite Music / Books ?
I listen to pop and Christian contemporary music. I like the books "A Walk to Remember" as well as "The Bride Wore White."
What is the proudest moment of your life or most memorable day?
This would be a tie between graduating from my soldier qualification course and when I found out that the first movie I starred in had placed in the top three for Blockbuster hits at the Philippine box-office that year.
Special Talents ?
Singing, acting, dancing and hosting.
Any other interesting facts ?
I completed the Canadian Forces army reserve basic military qualification and soldier qualification. I have been trained in the field and would like to become a commisssioned officer in the future. I am also one of the 17% for the national average of women in engineering in Canada.
Tell us a little something about your Country ?
Calgary was the first Canadian city to host the 1988 Olympic Winter Games. Multiculturalism in Canada has been adopted as an official policy with the highest per capita immigration rate in the world.
Favourite food ?
I love to eat fruit and vegetables, especially strawberries. My favourite cuisine is Japanese, specifically, sushi.
* Back to Miss World 2011 Delegates:
Africa
|
Americas
|
Asia & Oceania
|
Caribbean
|
Europe