Gabriela Pulgar - Chile | Miss World 2011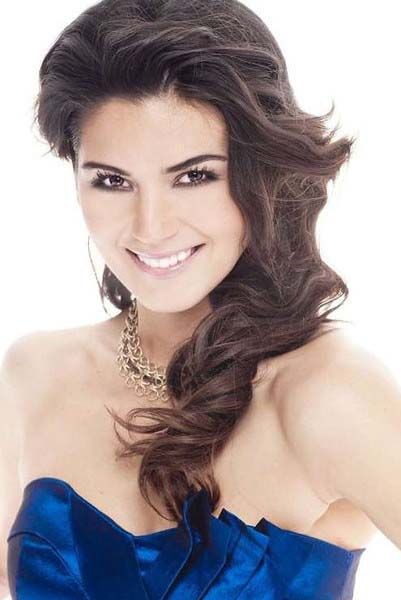 Miss World 2011
Candidates | Contestants
Profile
Miss Chile
Gabriela Pulgar
Age: 22
Height: 1.75
Hometown: Viña del Mar
Language(s): Spanish & English
Notes: Gabriela Pulgar is the reigning Miss Chile 2011.
BIOGRAPHY
Gabriela is in her last year of University studying speech and language therapy. Her future ambitions are to be able to deliver a positive message to people with special needs and become a successful singer. Hobbies include: volleyball, tennis, running, acting and singing. Gabriela's proudest moment to date was singing in front of her school.
INTERVIEW
Tell us a little something about your Country ?
Chile has a beautiful and varied landscape. Its people are warm and generous and work together to overcome adversity and value the family and workplace.
Future ambitions ?
To become a renowned artist or singer and a happy woman! I want to be able to deliver a positive message to people with special needs and to combine my social concern and my passion for music.
Describe yourself
I am a multifaceted person with much to learn from life. I have the courage to follow my dreams and still be consistent with the values they have taught me.
Personal Motto?
We come to life for three things: to learn to love, to leave a mark and to be happy. Be grateful for whatever you are and have.
Favourite food ?
I love lasagne, French fries, a Chilean roast/barbeque, chilli empanadas and seafood.
Favourite Music / Books ?
My favourite artists are Ray Charles, Aretha Franklin, Alejandro Sanz, Caetano Veloso, Shakira and Coldplay. My favourite authors are Carlos Ruiz Zafon and Jose Romero.
What is the proudest moment of your life or most memorable day?
The first time I sang in front of my school and my mother hugged me, crying. From that moment onwards, I knew singing and music were what made me truly happy.
Special Talents ?
My ability to sing.
Any other interesting facts ?
I was a finalist of Talento Chileno (Chile's Got Talent) in 2011 on the Chilevision channel. My talent was singing.
* Back to Miss World 2011 Delegates:
Africa
|
Americas
|
Asia & Oceania
|
Caribbean
|
Europe