Ava Ferdowsmakan - Miss Universe Canada 2010 Delegate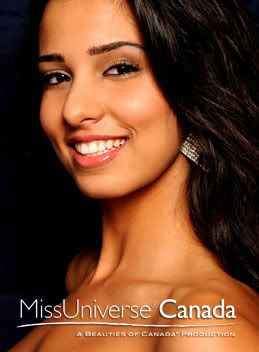 Miss Universe Canada 2010 Beauty Pageant
Contestant #8

Name: Ava Ferdowsmakan
Age: 19
Height: 5'8"
Hometown: Markham, ON

BIO:
Motivated by her goals and endeavours for success, Ava believes that anything can be achieved with a positive attitude and determination. She is currently in her second year of Kinesiology at York University in hopes of entering medical school in the near future. Due to personal experiences and the world's booming health crisis, Ava's goals have been directed to become a well achieved doctor. She has committed her life to helping others in any way that she is capable and would love to one day work with the organization of "Doctors Without Borders".

Ava currently works as a swimming instructor, coach and lifeguard. Swimming has been her passion from a very young age which led her to commence as a competitive swimmer. Ava has had three York Region records in conjunction with provincial times in certain events. Even though Ava swam outside of school, she was still a part of her high school's basketball, soccer, track and field and swim team. Due to her elite athletic training and abilities, Ava was proclaimed Athlete of the Year, six years in a row. Her love for sports and physical activities has endorsed her to become driven by competition and to always strive to the top.

As her hobbies, Ava loves music, reading, modeling and travelling. Being the only child of her supportive and adventurous family she has already visited France, England, Turkey, Dubai, Cuba, Mexico, Dominican Republic and parts of Canada and USA. Ava was born in Tehran, Iran and moved to Toronto at the age of seven. Ava is very proud and thankful for her loving parents for giving her the opportunities to pursue anything she has ever desired, and for providing her with proper guidance throughout her life. She finds it fascinating and has always been open to explore other cultures and the different ways that people live around the world.

Over the past year, Ava has helped organize reputable fundraising events to raise money for leukemia research for Sick Kid's Hospital in the name of her very close childhood friend. The two events, Dinner and Silent Auction and 17 Mile Walk has been very successful and accomplished. Ava has always been a natural leader in anything she has been a part of, and that is why she is currently in the midst of starting a Human Rights Watch club at York University. If given the opportunity to go on towards becoming Miss Universe Canada, Ava will continue to be the all around person she is, and start a foundation dedicated to cancer patients and their families.
Miss Universe Canada 2010 Candidates:
Page 1
/
Page 2
/
Batch 3