Christine Adela White - Miss Universe Canada 2012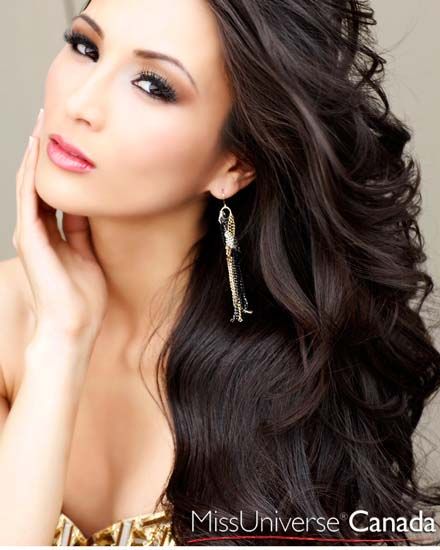 Christine Adela White | Miss Universe Canada 2012
Age: 26
Height: 5'11"
Hometown: Vancouver
BIO: Christine Adela White studied at the University of British Columbia where she attained a B.A. in Music, Minor Psychology.
She was inducted into the Golden Key honour society as part of her achievement in placing within the top 15% in academics within her faculty.
Christine has always had a passion for learning and teaching, and a profound love and respect for music education and therapy.
As a child, Christine was signed with a modeling and talent agency, but the experience was short-lived, as she felt the need to prioritize her education (a mind-set that followed through since grade school).
She currently works privately as a music teacher where students under her tutelage take upon the disciplines of piano, voice, and music theory.
And now since graduated and situated in her career, Christine has removed modeling from the back burner, and takes pride in her job as both a music teacher and model for runway and commercial print.
Christine believes that part of being a Canadian is recognizing and appreciating the values of multiculturalism. To complement her Canadian identity, she is also very proud of her Filipino heritage. Her mother hails from a humble town in Pangasinan, where Christine has visited several times since she was a child.
While she enjoyed her time in the Philippines, she could not overlook the poverty that she witnessed – she recalls a young girl standing on a busy street median, desperately trying to sell flowers to any stopped vehicle. Christine was taken aback as she perceived the metaphor of the situation, should the girl continue to do the same as a grown woman.
Alongside cyber-bullying and "The Ride to Conquer Cancer," Christine has made an effort to bring awareness to humanitarian groups such as the SOS Children's Villages in hopes that, universally, Canadians will reach out to abandoned children, like the flower-girl in the Philippines.
In 2011, Christine participated in the Ride to Conquer Cancer, raising $2,500 to benefit the B.C. Cancer foundation. Her most fulfilling moment yet is crossing the finish line on her bike after a long 270KM ride along the Pacific coast to Seattle, Washington. She did this in memory of her sister Laura. Inspired by the journey and her drive to help find a cure, she plans to ride again this year in June, soon after the pageant; it is for this reason that she proudly includes "The Ride" as part of the platform she has been fundraising for.
Christine is deemed to embody a quiet confidence. She is proud to share that her father, a retired 65-year old, is joining her this year in The Ride in memory of Laura. If he can ride 270 km and find the motivation to do so, anyone can find the will-power and humility to reach out to altruistic causes greater than our own endeavours.
It is actions like these that Christine wishes to advocate and instill in others; right thought and right action, said best by author and motivational speaker Robin Sharma, "Ideation without execution is simply delusion."
Languages spoken fluently (please include your native language if English is not your native language).
English, some Tagalog and Ilocano.
What are your interests and what do you enjoy doing the most?
My interests include: playing the piano, singing, playing the occasional console video game or MMORPG, Bikram's yoga, cycling, watching Dr. Oz and The Doctors!
My passion is to teach music, and I find myself always curious and interested in knowing the latest in health research and treatment. I have a profound interest in incorporating my knowledge of music therapy/psychology in my teachings, especially with children.
List any special training you have had (music, art, drama, dance, etc.)
I have a Bachelor of Arts in Music, with minor studies in Psychology. During my studies at the University of British Columbia, I also took up the practice of the Korean hour-glass drum called the Changgo!
In what sports, if any, have you participated?
I started playing community league soccer at age 10, and continued all through high school. I played striker and left-mid! Growing up, I admired Mia Hamm and her ability as both an athlete and as a woman who taught through her actions: confidence, respect, and team-drive.
Name one person, other than your parents, who has had the most influence on your life. Why?
My sister Laura is the most influential person in my life. Because of Laura I do my best not to take life's teachings and even its tribulations for granted – having an appreciation for modesty, and a lack of hesitation to say "thank you" are reflections I value. In the 15 years she lived, she spoke with demeanor, one respectful and empathetic of others. Laura is remembered for being compassionate and reserved, and to have surprised many of her friends when she confronted a "bully" she had witnessed taunting a classmate, helping them see the error in their ways. In the 10 years since she passed, her friends still take time to remember her – one that continues to remind me of what "friends forever" really implies. Take nothing for granted: right thought, right action – Laura's teaching adopted as my own.
What is your proudest personal accomplishment (other than participating in this pageant)?
My most fulfilling moment was last year in 2011 when I crossed the finish line on my bike, 270 km after the fact as part of the Ride to Conquer Cancer. The weather was daunting, but it made the experience that much more meaningful. Finding the will-power to pedal two days along the coast to Seattle humbled me – the distance and poor weather had little bearing on my progress, as my drive and purpose to pedal on derived from one sole purpose: I was riding in memory of my sister Laura. This year, in 2012, I plan to raise another $2500 to ride in memory of Laura as part of my Ride to Conquer Cancer – a cause I have included in my platform candidacy in the Miss Universe Canada pageant.
What is the most interesting or unique thing that has ever happened to you and/or what is the most interesting thing about you?
I am a vegetarian, but fear not – I will not convince you to change eating habits. According to my father, I chose to become a vegetarian at age 3 after he made "the dreaded mistake" of telling me how chicken nuggets were actually made. At the time, my parents felt I would eventually grow out of my state of unwillingness to eat meat, but here I am 24 years after and still not willing. In fact, it seems my father adopted my vegetarian life-style, as It is now becoming more prevalent as a healthy life-style, which is great news for someone like me whose reasoning for vegetarianism is seemingly due to mere conditioning. What's intriguing is that I have no problem cooking meat dishes – I just won't eat them. So do not worry, I am not offended should you choose to order a steak.
What is your career ambition and what are you doing or plan to do to accomplish that goal? What would be your "dream job" in life?
My passion is to teach. I find the greatest sense of fulfillment when a student acquires the confidence, discipline, joy, and appreciation for musicianship. My love for teaching was reaffirmed and humbled when I was approached with the request to teach music to a child with autism. Words cannot express what I was feeling when this particular student smiled and acknowledged my praise for him when he successfully completed his first piece on the piano.
My goal is to eventually expand my studio (C.W. Music) into a commercial space where I can invite and hire fellow musicians and even music therapists to fulfill and teach by the motto I truly take to heart: "The good teacher explains. The superior teacher demonstrates. The great teacher inspires." – William Arthur Ward
Are you currently a student?
I've since graduated from the University of British Columbia with a B.A. in Music, minor in Psychology.
Are you currently employed?
Yes
If yes, what is your occupation?
I teach privately as a music teacher, with disciplines in piano, voice, and music theory.
I also have worked part-time as a model.
Describe where you were raised and what your childhood was like.
I was born and raised in Vancouver,British Columbia and I continue to find reasons to appreciate living here. One of the fondest memories of my childhood was participating in a broad array of community centre group activities and discovering my interest and appreciation for learning – crafts, science club, music, gymnastics, Nintendo tournaments, and soccer, you name it! I have my mother and father to thank for my continuous drive to learn and educate myself in many fields, which helped me excel in school. While growing up, my parents also recognized the importance of creativity, so they allowed myself and my sister the time to play with our Barbies, play "house" and "make-believe," write stories, draw pictures. Of course, I was always was "the teacher" when we played "house."
List any interesting or unusual jobs you may have had.
It may be unusual that I have had only one job, and that is teaching music. I started with a small pool of clients/students when I entered university, some of whom still under my instruction!
List any volunteering you have done.
World's Youth Choir
EPIC – environmental awareness fair
Preparing my students for Philippine Independence Day performances
Hosting a fundraiser benefiting the Canadian Red Cross to support the typhoon victims in the Philippines
What is your most unusual talent?
Knowing how to play the Korean hour-glass drum called the Changgo.
Where is the most interesting place you have been?
My mom's province, Pangasinan, in thePhilippines! Hundred islands – you can take a small boat from island to island, all very small with white sand – you feel as if you are on your own little white-sand island amidst clear, blue water! Also, too, In the city of Bolinao, there is what is called an "Enchanted Cave" where you are promised a surplus of health benefits from swimming in the cave's underground pool!
What do you hope to be doing in ten years?
In ten years I hope to be happy, healthy, and successful. I would like to support my parents in return for all the years of support they have given me. I would like to be a good mother and role model, advocating the teachings of compassion, empathy, and community service. In ten years, I hope to be looking back and reminiscing my many times on the bike for the Ride to Conquer Cancer, and during that same moment I want to be pondering what in the world to do next now that cancer is conquered, a cure found.
Is there anything you would like to add that we haven't asked?
My favourite childhood joke told by my dad:
I met a talking dog today! I asked him what was on top of the house – he replied, "Roof, roof!" I asked what was on the tree, he scuffed, "Bark! Bark!" The dog began to whimper, so I just had to ask: "How was your day?" He replied, "Ruff… ruff."
I participated in the Ride to Conquer Cancer last year in 2011, and plan to do so again this year in 2012 soon after the pageant! If you are interested in donating and supporting my ride in hopes of funding innovative treatment and research for cancer, please kindly
CLICK HERE.
* Back to
Miss Universe Canada 2012 Contestants
* Special Thanks to Beauties of Canada