Mariana Notarangelo of Brazil wins Miss Global Beauty Queen 2011
21 year old Miss Brazil, Mariana Notarangelo da Fonseca wins Miss Global Beauty Queen 2011 pageant also known as Miss International Beauty 2011 (MIB) contest held on May 10 in Seoul, Korea. She was crowned by
Miss Global Beauty Queen 2009 - 2010, Vasana Wongbuntree
.
This was the 2nd beauty title for Mariana Notarangelo as she was also crowned
International Queen of Coffee 2010
.
The 1st run-up was Miss Korea, Haemy Chung. 2nd run-up was Miss Australia, Danielle Byrnes. 3rd run-up was Miss Russia, Natalia Chirkova. And finally the 4th run-up was Miss South Africa, Caylene Marais.
Completing the Top 15 Finalists were: Miss Canada, Elishia Sahota; Miss Maria-Lia Bledea; Miss Greece, Teodora Vranic; Miss India, Supriya Shailja; Miss Serbia, Jelena Vucic; Miss Vietnam, Phan Thi Huong Giang; Miss Indonesia, Maya Ayu Permatasari; Miss Estonia, Keisi Lokk; Miss Albania, Nevina Shtylla and Miss Thailand, Supharat Thai-Uea.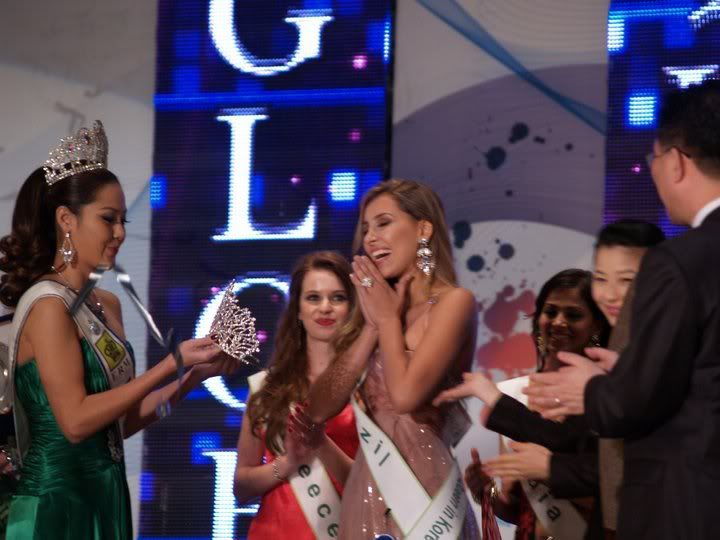 *
Miss Global Beauty Queen 2011 Delegates