Diana Angelie Jainga | Miss Philippines Earth 2011 Profile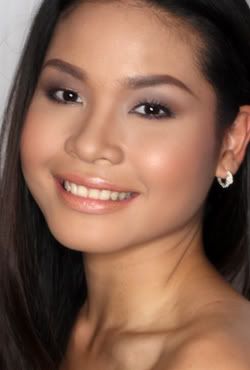 Miss Philippines Earth 2011 Beauty Pageant
Candidates / Contestants

Miss Passi City
Diana Angelie Jainga

Age: 20
Height: 5'5"
Weight: 110lbs.
Vital Statistics: 35-25-36

* Diana Angelie Jainga won the Bb. Pintados de Pasi 2011 pageant. She also won Miss Iloilo Nursing 2009 contest organized by the Student Nurses Association of the Philippines (SNAP) – Iloilo Chapter held at the University of San Agustin, Iloilo. And she also the 1st run-up in the Miss Paraw Regatta 2009 beauty contest.



BIO:
DESCRIBE YOUR CHILDHOOD/GROWING YEARS (8-13 Years old)
Growing up was like a roller coaster ride- there were ups and downs but I wouldn't change a thing because those experiences honed me to be the person that I am today. I was a child who found enjoyment joining in the school's co-curricular activities.

WHAT LESSONS DID YOU LEARN FROM YOUR CHILDHOOD/GROWING YEARS?
One thing that I learned was perseverance. Every time I want to achieve something, I knew that I have to work hard for it to earn it. I also learned that giving up is not an option when you have a goal.

WHAT IS YOUR MOST MEMORABLE MOMENT?
My most memorable moment was when my family and I went on a cruise. We went to Japan, Taiwan, and Hong Kong. The trip was definitely one of my most treasured experiences.

WHAT IS YOUR ENVIRONMENTAL ADVOCACY?
Conserve and preserve the mangrove community by planting mangrove seedlings. Mangrove forest serves as a spawning ground for fishes and habitat for many wildlife species. It acts as a buffer against strong and winds while trapping sediments from the uplands. Sadly, human activities cause the degradation of the mangrove community.
* Back to Miss Philippines Earth 2011 Delegates:
Batch 1
|
Batch 2