Leslie Ching | Miss Philippines Earth 2011 Profile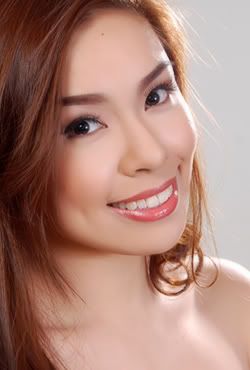 Miss Philippines Earth 2011 Beauty Pageant
Candidates / Contestants

Miss Municipality of San Isidro, Nueva Ecija
Leslie Ching

Age: 19
Height: 5'5"
Weight: 108lbs.
Vital Statistics: 35-25-35



BIO:
DESCRIBE YOUR CHILDHOOD/GROWING YEARS (8-13 Years old)
Ever since I was young, my family would always be there and travel with me for my ice skating competitions. I loved competing internationally and I always worked hard in school and my other activities. But when my parents separated and other problems arrived, it was difficult for my mom, my siblings and me to handle. Later on, it affected my performance in school, my career as an ice skater and a dancer, and also my attitude. But my family never gave up on me, they showed me how to be strong and never lose faith in God. Especially my mom, she believed in me and she taught me how to believe in myself. In time, I started joining other activities like charities and international leadership conferences, being part of those is a big achievement for me. And I can say that I become more successful as an athlete, as a student and as an individual when I see my family sincerely happy for me.

WHAT LESSONS DID YOU LEARN FROM YOUR CHILDHOOD/GROWING YEARS?
The best thing I learned was that, to believe in oneself is the starting point of all achievement, and believing in others is the best of all achievement.

WHAT IS YOUR MOST MEMORABLE MOMENT?
My most memorable moment was when I was young, my cousins and I would walk to the calamansi plantation and get calamansi and bring it home to our moms. It was a long walk from our house in Nueva Ecija, we had to pass by a small forest to get to the plantation. When we got caught getting calamansi, we would run to the forest and climb up trees. My cousins would carry me up because I didn't know how to climb a tree.

WHAT IS YOUR ENVIRONMENTAL ADVOCACY?
In the midst of overwhelming news on climate change and calamities in different parts of the world, our own homes and our daily lives can contribute in increasing our global protest to save the environment. We Filipinos should promote green living as expressed in simple ways like planting trees, recycling bags, containers and paper, and using recycled paper towels. Green living is the simplest, most immediate and deliberate participation we could do in saving Mother Earth. It allows all of us – man or woman, young or old to help our environment. Let us all begin with ourselves, start out small and work our way through. I believe that small changes can lead to big differences.
* Back to Miss Philippines Earth 2011 Delegates:
Batch 1
|
Batch 2