Alyssa Mae Canizares | Miss Philippines Earth 2011 Profile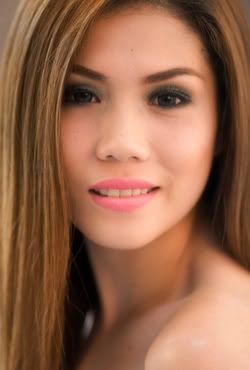 Miss Philippines Earth 2011 Beauty Pageant
Candidates / Contestants

Miss Baliwag, Bulacan
Vivienne Andrea Gulla

Age: 23
Height: 5'5"
Weight: 110lbs.
Vital Statistics: 33-24-34



BIO:
DESCRIBE YOUR CHILDHOOD/GROWING YEARS (8-13 Years old)
I owe my resilience and versatility to my childhood experiences. At eight years old, I had already fully grasped the concept of responsibility. I grew up mostly with mom's guidance because dad was working abroad. I voluntarily took on the task of looking after my then, newly-born sister. I also had to assist mom in doing the house chores. All these, while striving to maintain my post on top of the class. I didn't let my responsibilities at home get in the way of my extra-curricular activities though. I managed to bag medals in declamation, oratorical, poster-making, and editorial cartooning competitions.

My Sundays were strictly family days. We would hear mass regularly and spend lunch enjoying each other's company. Every time we went to the mall, my feet would always bring me to the books and arts section. I enjoyed reading and drawing more than playing dolls. Probably, because those were my outlets for the dreams and fancies I had at an early age. I was a fan of fairy tales. Sometimes, I would draw myself as one of those princesses who were lucky to have their happily-ever-after. Nature was a favorite subject for my artworks. I imagined that someday, those beautiful sceneries, which inspired my drawings, would still be there for my prince charming and our little princesses to appreciate. Since then, I have pinned my hopes on those dreams and committed to fulfilling them.

WHAT LESSONS DID YOU LEARN FROM YOUR CHILDHOOD/GROWING YEARS?
A scar on my left elbow serves as a reminder of the lesson I had to learn the hard way early in life- that SOME ACTIONS ARE IRREVERSIBLE. So, we have to consider all possible consequences before finally deciding to act one way or the other. When I was seven, mom refrained me from playing hide-and-seek beyond 6pm. This call, however, went unheeded, and I ended up slipping, and hitting my left elbow against a sharp edge… a clear case of "if only" (I listened). From that time on, I have become more reflective and open to elders' advices, especially before arriving at major decisions, to save myself from regrets.

Growing up from a traditional family, among the first gestures I learned was kissing the hand of elders. Mom said, this is a sign of RESPECT. Eventually, though, I learned that beyond gestures, respect comes in many other forms. Complying with the rules, and taking time to listen are among the highest forms of respect. It is given not just to elders, but even to God, and to every individual- regardless of their age, regardless of their status in life, and regardless of their religious, and political views.

These life lessons remain relevant until today. The animals, plants, and the environment may not verbally demand it, but they, too, need RESPECT from us human beings. If we truly respect the living creatures, we will protect them, not render them extinct. If we value the trees, we will set aside personal interests to preserve our forests. And if we respect the environment, we will dispose our garbage properly. For years, Mother Nature has been very generous and nurturing. She is now calling for help to mitigate the impact of global warming. I hope, this time, we can save ourselves from big regret by responding to Mother Nature's call… because failure to do so may just result in IRREVERSIBLE damage.

WHAT IS YOUR MOST MEMORABLE MOMENT?
It has been quite a while since my college graduation, but the memory remains vivid. The joy and fulfillment I felt that day drowned all the exhaustion brought about by final exams and thesis. I was holding back tears of joy as the dean awarded me the medal for graduating Magna Cum Laude in the University of the Philippines-Diliman. I managed to complete my degree working on very limited allowance, but a lot of devotion, and inspiration from my family. It was a victory I dedicate to my parents, especially my dad, who endured working miles away from us just so we can get quality education.

More than a personal achievement, college graduation signaled the green light for my turn to serve the public. It made me realize that it is about time I return to Filipino taxpayers the favor they gave me when they subsidized my education. I was a scholar for four years, and now that I am a TV news reporter and anchor, the least I can do is to deliver factual, objective, and balanced news stories while working as the public's eyes and ears in the government.

WHAT IS YOUR ENVIRONMENTAL ADVOCACY?
The worsening and unprecedented effects of global warming drove me to become an advocate of clean air. From being just a health concern, air pollution has quickly become a major environmental issue because of its consequences on climate. Still, I believe that no problem can be too gigantic if every person in the planet works to resolve it. The simplest step to cleaner air is by reducing carbon emissions. Join carpools or switch to hybrid cars. Avoid the use of products with CFC or chlorofluorocarbon. For short-distance travels, instead of using motorcycles and other vehicles that emit carbon, just walk or use a bicycle. It is an effective way of helping the environment, while staying fit and healthy. Burn Calories, NOT Fuel.

Trees filter the air we breathe. They are also the primary source of our basic needs- food, shelter, and clothing. I encourage every individual to plant a tree. Or at the very least, protect trees by reducing the consumption of products that emanate from it, like paper. Recycle papers, and engage in paperless transactions. Switch to online news and magazines.
* Back to Miss Philippines Earth 2011 Delegates:
Batch 1
|
Batch 2