Isabelle Pearson - Miss Universe New Zealand 2011 Profile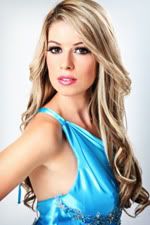 Miss Universe New Zealand 2011 Beauty Pageant
Candidates Profile

Delegate

Miss Great South Vets
Name: Isabelle Pearson

BIO: Isabelle is 24, 5 ft 7 ½ in. She works part-time for her sponsor as a veterinarian nurse and enjoys her voluntary work with the SPCA. She has a Bachelor of Visual Arts, majoring in sculpture. Isabelle's interests include fine jewellery design, horse eventing, and painting with watercolours. Her ambition is to launch her own inspired jewellery brand.
* Back to:
Miss Universe New Zealand 2011 Contestants