Diane Carmela Querrer | Miss Philippines Earth 2011 Profile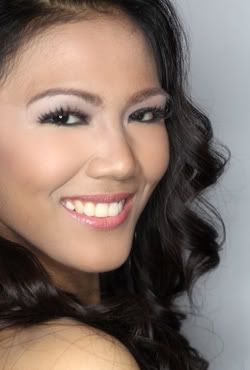 Miss Philippines Earth 2011 Beauty Pageant
Candidates / Contestants

Miss Tanauan City
Diane Carmela Querrer

Age: 22
Height: 5'5"
Weight: 115lbs.
Vital Statistics: 34-26-34



BIO:
DESCRIBE YOUR CHILDHOOD/GROWING YEARS (8-13 Years old)
At an early eage, I was oriented to our small family business. Together with my four siblings, I grew up helping our parents run our grocery store. During summer breaks, I enjoyed playing different roles, being a supervisor, a cashier, a bagger and sometimes even as a porter. My early exposure to the business world probably relates to my field of practice at the moment.

I took up my first two years of basic education in a private school and finished my elementary years in a public school. True enough that in a public school one gets a different training. I learned how to wax floors, garden the school's backyard, clean comfort rooms and sweep school streets. Still, I found myself lucky because not everybody gets a chance to experience both worlds.

As an active student, I was always eager to learn and explore new things. I joined spelling quiz bees, leadership trainings and art contests. Academically, I was a consistent part of the honor roll. I also had my share of "firsts" during my growing years. If I remember it right, the first pageant I joined was Mr. and Ms. MAPE (Music, Arts and P.E.) where I ended up as Miss Congeniality. My first time as a representative of our school on a national level competition was during the Metrobank MTAP DECS Math Challenge. Our team was hailed as "Math Wizards" by being the first champions. I was in Grade 4 when I had my first teacher who saw potential in me and recognized my communication skills. She was the first person who believed I can be a reporter someday. I have to give credit to my dad because he was the best speech mentor during those times.

Basically, that was me during my childhood. The basic lessons I learned from playing my favorite street games, like siato, luksong tinik, and patintero, also made my growing years worth remembering.

WHAT LESSONS DID YOU LEARN FROM YOUR CHILDHOOD/GROWING YEARS?
Maximize your childhood years. Learn as many things as you can. Join groups because you will be able to meet and socialize with different people and gradually develop your attitude towards life. Moreover, our parents taught us that nothing of great value can be earned easy. They instilled in us the value of hardwork and patience. I remember whenever my siblings and I want hotdog sandwich from Jollibee, we have to count coins first needed in the supermarket for change funds and only then we get a Jollihotdog as our reward.

WHAT IS YOUR MOST MEMORABLE MOMENT?
There are several memorable moments in my life but I would answer this with something funny/embarrassing experience I had during my first day as a courtside reporter in UAAP. I was advised by the Director to use Filipino in my reports and I did. Everything was going smoothly until an injury happened to one of the players. I had to do an instant injury report and needless to say, I screwed up. Just charge to experience whatever I said during that 2-minute update.

It was memorable because I thought after my first appearance, I can't be a good reporter for my alma matter (UST). Good thing I changed my perspective, and told myself that such major "boo-boo" will not define me. Through practice and positive approach to feedbacks, people noticed a lot of improvements from my reports. And after two seasons as a reporter, I believe I made a good legacy for the school.

WHAT IS YOUR ENVIRONMENTAL ADVOCACY?
Moat big companies in the food industry use styros, and even small carinderias and school canteens. Imagine the number of styros we consume everyday. Such number is directly proportional to the damage we do to Mother Nature. Let us now push for a styro-free Philippines and make it possible for the future generations to still enjoy the beauty of Mother Earth.
* Back to Miss Philippines Earth 2011 Delegates:
Batch 1
|
Batch 2