Christianne Ramos | Miss Philippines Earth 2011 Profile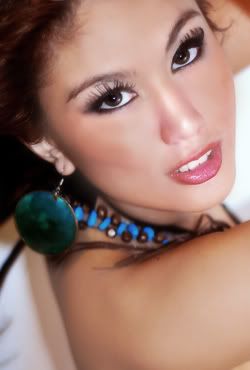 Miss Philippines Earth 2011 Beauty Pageant
Candidates / Contestants

Miss Municipality of Cainta, Rizal
Christianne Ramos

Age: 20
Height: 5'7"
Weight: 123lbs.
Vital Statistics: 35-25-35



BIO:
DESCRIBE YOUR CHILDHOOD/GROWING YEARS (8-13 Years old)
I was an active child quite eager to try and learn new things. I was very inquisitive. I was always curious about all sorts of things, events and people. I was always outgoing and never was shy. I would easily get bored if I was not doing anything, that is why I did all sorts of activities such as soccer, gymnastics, ballet, swimming, and theater. Moreover, I was fond of expressing my creativity through drawing and painting as well.

WHAT LESSONS DID YOU LEARN FROM YOUR CHILDHOOD/GROWING YEARS?
Growing up, I was taught to always have a positive outlook in life. I grew up having a strong sense of optimism and determination, and that failures serve not as hindrances but important life lessons. Growing up also taught me to resent mediocrity that I should always do my best in everything. Most importantly, I was brought up by my family to be God fearing and prayerful, and that I should treat others with much respect.

WHAT IS YOUR MOST MEMORABLE MOMENT?
It was September 2009 when typhoon Ondoy struck the country. I consider this catastrophe as the most memorable moment in my life because of the great effects that it marked in me. The floods that ravaged our household and endangered our lives greatly, and the morbid images I have seen during the onslaught of the typhoon, are still vivid in my memory. This tragedy however, opened my eyes to our social responsibility to Mother Nature.

WHAT IS YOUR ENVIRONMENTAL ADVOCACY?
I am advocating sustainable fashion or eco-fashion. It is a trend of using environment friendly materials to produce clothing or accessories, to reduce harm to our environment.
* Back to Miss Philippines Earth 2011 Delegates:
Batch 1
|
Batch 2