Athena Mae Imperial | Miss Philippines Earth 2011 Profile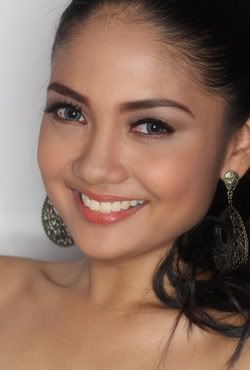 Miss Philippines Earth 2011 Beauty Pageant
Candidates / Contestants
Miss Municipality of Casiguran, Aurora
Athena Mae Imperial
Age: 24
Height: 5'6"
Weight: 115lbs.
Vital Statistics: 35-25-36
* Athena Mae Imperial was a top 12 semifinalist in the
Mutya ng Pilipinas 2009
beauty contest held in Baler, Aurora, Philippines.
BIO:
DESCRIBE YOUR CHILDHOOD/GROWING YEARS (8-13 Years old)
While the other girls were busy playing with their dolls, jackstones, kitchen-set toys, and jumping ropes, I was with the elders playing scrabble, word factory, fixing puzzles and solving games of logic. My goal then was to be as good as the adults I was playing games with. I even aimed to beat them. Yes, I am goal-oriented since childhood.
WHAT LESSONS DID YOU LEARN FROM YOUR CHILDHOOD/GROWING YEARS?
First and foremost is to put God above all things. When I was a child, I was taught to thank God for another day when I wake up, to thank Him for the food He provides, and to pray before going to sleep. With that foundation from childhood, I bear with me until now that all my actions and successes must be offered for His glory.
Second is to be concerned of my surroundings and environment. I was trained to fix my bed when I wake up, to clean up my books and toys after using them, to separate biodegradable trash from non-biodegradable garbage, to reuse the recyclable materials, and to switch off the lights and appliances when they were not in use. I was taught that living in a place with a clean surrounding facilitates in thinking and doing better. I was also educated that doing small acts in saving our environment can eventually be a huge influence to other people.
Third is to be unselfish. I was taught to share my snacks to my grade school classmate, to consider the thoughts of my group mates for a project, to give my playmates a chance to enjoy whatever toys I had. Even until now that I'm a grown up, I don't deal and give in with anything that is only for my own good; I consider the welfare of other people. Being self-centred will give us nothing; but being selfless and considerate will provide us a precious space in the hearts of those whom we shared our blessings with.
WHAT IS YOUR MOST MEMORABLE MOMENT?
The moment I got in as a member of the leading investigative documentary program in the country is unforgettable. During college days, I was only staring at the billboards and the building of the network where I dreamt working at. I had been dreaming of becoming one of its journalists who open the minds of the Filipinos about the current phenomena and the reality of life. Being a researcher for the said program opens the door for me to reach that goal. Researching for such a program provides me tough training and good stepping stone towards the profession that I want to achieve.
WHAT IS YOUR ENVIRONMENTAL ADVOCACY?
I stand against global warming. In our little ways, we can show our fight against this pressing environmental issue. Among these significant small acts are unplugging appliances and switching off lights when they are not in use, not burning fuel, and avoiding excessive emission of carbon dioxide.
We are among the contributing factors of global warming but we can be a part of the solution to address this environmental problem.
* Back to Miss Philippines Earth 2011 Delegates:
Batch 1
|
Batch 2