Ana Maria Gracia Baladad | Miss Philippines Earth 2011 Profile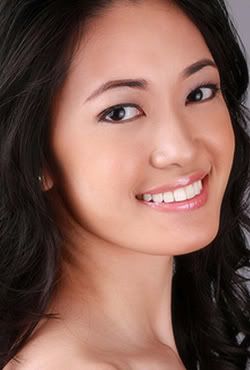 Miss Philippines Earth 2011 Beauty Pageant
Candidates / Contestants
Miss San Juan City
Ana Ma. Gracia Baladad
Age: 25
Height: 5'7"
Weight: 112lbs.
Vital Statistics: 35-24-35
* Ana Maria Baladad was crowned Mutya ng Pilipinas Overseas Communities 2009 title at the
Mutya ng Pilipinas 2009
beauty contest.
BIO:
DESCRIBE YOUR CHILDHOOD/GROWING YEARS (8-13 Years old)
I migrated to the States at the age of 7 and I would consider this time in my life as literally my growing up years. I had to learn to live without household help and learn the concept of chores. I consider this time as a great stepping stone in my life because I learned to become a more independent and hands on person. I also developed discipline towards myself and become more mindful of others. I did a lot of listening and less talking so that I could adapt to my new environment quickly and successfully.
WHAT LESSONS DID YOU LEARN FROM YOUR CHILDHOOD/GROWING YEARS?
Learning the value of money was one of the most important things that I learned. My life in Texas was not going to be the same as my life in the Philippines. When I was residing in the Philippines, I had a personal nanny and driver and every weekend, my brother and I would shop for new clothes in the mall. During my first few months in Texas, I saw how hard my parents worked to sustain the living arrangement they had prior to me moving to Texas. My mother had to take in a part-time job on the weekends so we would have extra money to buy winter clothes for me. I learned how to differentiate wants and needs. I believe that this is a good concept to learn so that irresponsible spending habits can be avoided.
WHAT IS YOUR MOST MEMORABLE MOMENT?
My most memorable moment began on January 24, 2008. I was involved in a terrible car accident in which I sustained multiple fractures on the left side of my pelvis, a broken sacrum, and multiple punctures in my left lung. It was the first time I saw my dad cry as he was holding my mother while the doctor explained to them all the physical injuries which I sustained. I was bedridden for 2 weeks and during this time, my mother was there with me 24/7, tending to my every wants and needs. I was not able to walk for 3 months but my spirits were always up because my parents were always encouraging and positive.
WHAT IS YOUR ENVIRONMENTAL ADVOCACY?
My environmental advocacy is Sustainable Development which is the gradual decrease of using non-renewable resources such as coal, petroleum, and natural gas and turning to renewable resources such as wind, hydro, solar, and geothermal to use for our daily living. In doing so, the emission of carbon dioxide into our atmosphere will lessen.
* Back to Miss Philippines Earth 2011 Delegates:
Batch 1
|
Batch 2