Miss Republica Dominicana 2011 Official Candidates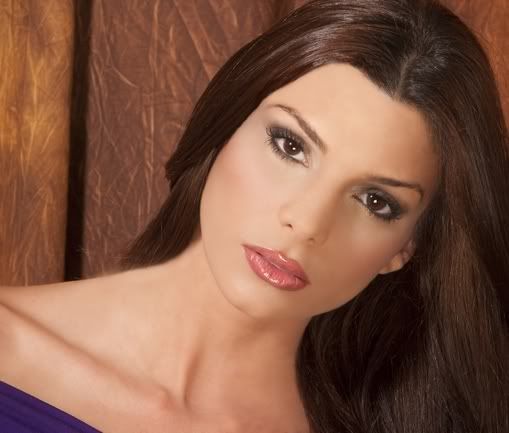 Miss Dominican Republic 2011 or locally known as Miss Republica Dominicana 2011 beauty pageant will be held March 8, 2011 in Renaissance Auditorio de Festival del Hotel Jaragua, Santo Domingo. The reigning
Miss Republica Dominicana Universo 2010, Eva Carolina Arias Viñas
(photo above) will crown her successor at the end of the event.
The new winner will represent
Dominican Republic
at
Miss Universe 2011
beauty pageant to be held on September 12 in
Sao Paulo, Brazil
.
The 1st run-up will compete at Miss Continente Americano 2011 while the 2nd run-up will enter Reina Hispanoamericana 2011 beauty contest.
Miss Dominican Republic 2011 Contestants:

Azua
Angela Maria Gutierrez Caceres
Age: 18
Height: 5'9 3/4"
Hometown: Azua de Compostela



Bahoruco
Carmen Victoria Goico Ortiz
Age: 23
Height: 5'8"
Hometown: Santa Cruz de El Seibo



Barahona
Judith Jimenez Alvarez
Age: 24
Height: 5'8.5"
Hometown: Santa Cruz de Barahona



Comunidad Dom. En Estados Unidos
Fatima Leonardo Suarez
Age: 23
Height: 6'3/4"
Hometown: Providence



Comunidad Dom. En Puerto Rico
Georgina Daliza Perez Mota
Age: 19
Height: 5'11 3/4"
Hometown: Carolina



Dajabon
Gabriela Ferreira de los Santos
Age: 22
Height: 5'7"
Hometown: Dajabon



Distrito Nacional
Kirssi Abreu Pineda
Age: 22
Height: 5'8.5"
Hometown: Santo Domingo



Duarte
Irlandia Nunez Brussel
Age: 18
Height: 5'7"
Hometown: Moca



El Seibo
Luz Aura Goico Ortiz
Age: 18
Height: 5'8.5"
Hometown: Santa Cruz de El Seibo



Elias Pina
Jahnna Jones Ynoa
Age: 20
Height: 5'11 1/4"
Hometown: Los Alcarrizoso



Espaillat
Alba Jimenez Reyes
Age: 25
Height: 5'11 1/4"
Hometown: Moca



Hato Mayor
Dania Ventura de los Santos
Age: 19
Height: 5'9"
Hometown: Hato Mayor del Rey



Hermanas Mirabal
Saly Lucia Aponte Tejada
Age: 19
Height: 5'8"
Hometown: Salcedo



Independencia
Dilegni Maria Pujols Reynoso
Age: 24
Height: 5'9 3/4"
Hometown: Santiago de los Caballeros



La Altagracia
Helena Maria Garcoa O'Rourke
Age: 20
Height: 5'11 1/4"
Hometown: Salvaleon de Higuey



La Romana
Eleonor Dominguez Smith
Age: 24
Height: 5'8.5"
Hometown: La Romana



La Vega
Maria Altagracia Mendez Rodriguez
Age: 23
Height: 5'8"
Hometown: Concepcion dela Vega



Maria Trinidad Sanchez
Katherine Argenia Villalona Mir
Age: 23
Height: 5'9 1/4"
Hometown: San Felipe de Puerto Plata



Monsenor Nouel
Indiana Ortega Pena
Age: 23
Height: 5'7 3/4"
Hometown: Bonao



Monte Cristi
Genesis Carlina Nouel Baret
Age: 19
Height: 5'10.5"
Hometown: Santiago de los Caballeros



Monte Plata
Elpidia Rodriguez Raymond
Age: 18
Height: 5'10"
Hometown: Santo Domingo Este



Pedernales
Yasaida Ysabel Blanco Moran
Age: 18
Height: 5'9 3/4"
Hometown: Santo Domingo Este



Peravia
Evaida Lorena Santana Mateo
Age: 20
Height: 5'9"
Hometown: Bani



Puerto Plata
Anhyerica Jacqueline Paulino Cid
Age: 22
Height: 5'8"
Hometown: San Felipe de Puerto Plata



Samana
Evi Cecilia Siskos Guzman
Age: 22
Height: 5'8"
Hometown: Moca



San Cristobal
Cherry Elizabeth Jaquez Brito
Age: 20
Height: 5'10.5"
Hometown: San Cristobal



San Jose de Ocoa
Pamela Dalmau Rivera
Age: 20
Height: 5'7 3/4"
Hometown: Santiago de los Caballeros



San Juan de la Maguana
Wendy Stephania Polanco Pena
Age: 18
Height: 5'7 1/4"
Hometown: Santiago de los Caballeros



San Pedro de Macoris
Angela Leidy Kostoulos Mariano
Age: 18
Height: 6'2 3/4"
Hometown: San Pedro de Macoris



Sanchez Ramirez
Esther Karen Diaz Hernandez
Age: 22
Height: 5'10"
Hometown: Santiago de los Caballeros



Santiago
Dalia Cristina Fernandez Sanchez
Age: 21
Height: 5'10"
Hometown: Santiago de los Caballeros



Santiago Rodriguez
Adielsie Fancy de la Rosa Bello
Age: 21
Height: 5'9"
Hometown: Concepcion de La Vegas



Santo Domingo Este
Elizabeth Lauren Turra Brower
Age: 20
Height: 6'0"
Hometown: Santo Domingo Este



Santo Domingo Norte
Katherine Cruz Espinosa
Age: 21
Height: 5'10 3/4"
Hometown: Santo Domingo Norte

Santo Domingo Oeste
Leydi Joreiy Madera Vargas
Age: 21
Height: 5'9 3/4"
Hometown: Pedro Brand

Valverde
Lourdes Madera Rodriguez
Age: 21
Height: 5'5 1/4"
Hometown: Esperanza
*
Watch Videos
*
Dalia Fernandez wins Miss Republica Dominicana 2011