Sao Paulo, Brazil will host the Miss Universe 2011 Pageant
New York, Dec. 16, 2010 - The 60th annual
Miss Universe 2011
beauty pageant edition will take place on September 12 and will air live from Sao Paulo, Brazil as announced by NBC Universal, Donald J. Trump and Miss Universe Organization President, Paula M. Shugart.
"I am very pleased to announce our partnership with media conglomerate Grupo Bandeirantes de Comunicacao and the selection of Sao Paulo as the host location for Miss Universe 2011," said the pageant's owner, Donald J. Trump. "Brazil is rapidly becoming an economic powerhouse and is a great place to do business. This decade, Brazil is hosting three of the greatest and most-watched worldwide events: the World Cup, the Summer Olympic Games and now, to kick it all off, Miss Universe."
"Grupo Bandeirantes is delighted that we have reached an agreement with the Miss Universe Organization to host the Miss Universe 2011 pageant in Sao Paulo, Brazil," said the network's president, Joao Carlos Saad. "We believe it is fitting for Brazil to set the stage for this glamorous event, and we look forward to showing the contestants, and the almost 200 countries around the world who watch the pageant every year, the exciting and vibrant culture of our beautiful country."
Contestants from more than 80 countries around the world will travel to Brazil for almost a month of activities leading up to the live telecast. They will be judged in three categories: swimsuit, evening gown and interview, as they vie for the coveted title of Miss Universe 2011. This is first time in its 60-year history the Miss Universe contest will be held in Brazil.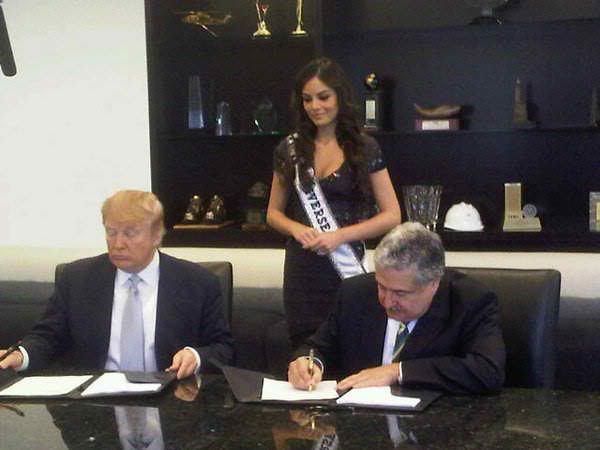 Ximena Navarette
, the reigning
Miss Universe 2010
will crown her successor at the conclusion of the telecast. During her reign, Navarrete has traveled the world as an advocate for HIV/AIDS education, research, and legislation. The next Miss Universe will continue this work.
*
Miss Universe 2011 Complete Coverage