Miss Germany 2011 Official Delegates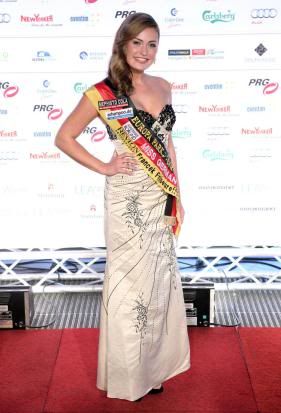 Miss Germany 2011 beauty pageant will take place on February 12 in Europa Park in the Southern city of Rust. The reigning Miss Germany Earth 2010, Anne Julia Hagen (photo above) will take her final walk and crown her successor during the contest.

The winner will represent Germany at Miss Earth 2011 pageant.

Berlin
Carina Noack
Age: 23
Height: 1.68m
Occupation: Sports studies student
Hobbies: Skiing, traveling & scuba diving



Mecklenburg-Vorpommern
Romy Wibelitz
Age: 18
Height: 1.75m
Occupation: Specialists in Employment promotion yield
Hobbies: Singing, horseback riding & traveling



Sachsen
Magdalena Motl
Age: 20
Height: 1.83m
Occupation: Nursing student
Hobbies: Singing, reading & traveling



Ostdeutschland
Anne-Maria Friedrich
Age: 22
Height: 1.75m
Occupation: Law
Hobbies: Looking after the football team of her little brother



Schleswig-Holstein
Temmy Brockmann
Age: 20
Height: 1.78m
Occupation: Banker education
Hobbies: Sports, swimming & friends



Sudwestdeutschland
Eva Tkotz
Age: 24
Height: 1.74m
Occupation: Business
Hobbies: Reading, fitness & cooking



Baden-Wurttemberg
Viviane Stutz
Age: 20
Height: 1.69m
Occupation: Marketing assistant
Hobbies: Zumba dance, travel & friends



Bayern
Tanja Maderholz
Age: 21
Height: 1.77m
Occupation: Education student
Hobbies: America, Latin America, ski, volleyball & dancing



Norddeutschland
Samantha Striegel
Age: 17
Height: 1.73m
Occupation: High school graduate
Hobbies: Dancing, tennis & fitness



Ashampoo
Manou Volkmer
Age: 17
Height: 1.81m
Hobbies: Sports, drawing & cooking



Hessen
Natalia Prokopenko
Age: 23
Height: 1.72m
Occupation: Architecture
Hobbies: Drawing & dance sports



Internet
Tiffany Sachs
Age: 22
Height: 1.74m
Occupation: Sales assistant
Hobbies: Sports, fashion & travel



Hamburg
Sandra Correia de Almeida
Age: 21
Height: 1.70m
Occupation: Restaurant training specialist
Hobbies: Dance, fitness & swimming



Niedersachsen
Saskia Hofler
Age: 20
Height: 1.70m
Occupation: Administrative sciences
Hobbies: Traveling, modeling & languages



Saarland
Jessica-Robin Sanzo
Age: 20
Height: 1.69m
Occupation: Dietician
Hobbies: Jazz & modern dance



Westdeutschland
Klaudia Domagalski
Age: 23
Height: 1.70m
Occupation: Student
Hobbies: Sports, gymnastics & skiing

Brandenburg
Isabell Bereit
Age: 19
Height: 1.70m
Occupation: Medical student
Hobbies: Acrobatics
*
Anne Kathrin Kosch crowned Miss Germany 2011