Renee Soraya Hassani | Miss Philippines Earth 2011 Profile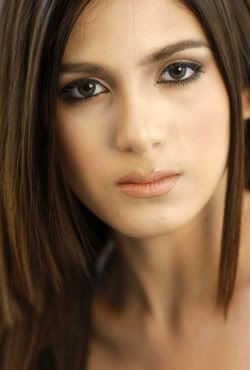 Miss Philippines Earth 2011 Beauty Pageant
Candidates / Contestants

Miss Municipality of Loay, Bohol
Renee Soraya Hassani

Age: 19
Height: 5'6"
Weight: 110lbs
Vital Statistics: 33-24-34



BIO:
DESCRIBE YOUR CHILDHOOD/GROWING YEARS (8-13 Years old)
I went to an all girls school and was always judged and picked on because I was skinny and didn't look Filipino. But I grew up loving life and saw its beauty at an early age. I grew up with a lot of pressure because my two siblings were very competitive. However, I realized that I can be successful on my own terms.

WHAT LESSONS DID YOU LEARN FROM YOUR CHILDHOOD/GROWING YEARS?
I believe that there's beauty in every person that's why everyone should take a closer look and not just judge a person on the surface. The goodness of the heart is what we should be striving for. I grew up realizing that it is not the people around us that we should to please but our Creator. I grew up in a Christian home and my parents inculcated to me that I am unique and special-everyone is.

WHAT IS YOUR MOST MEMORABLE MOMENT?
I could never forget the time when we went to Iran. I was seven years old when my whole family and I went to Iran for a visit. Winter had just ended and spring was in our midst-flowers everywhere, perfect weather, birds dancing in the air. It was a girl's paradise. We went climbing over mountains, drank from fresh water springs, and even picked up precious stones because they were everywhere. It was also the time when I met my cousins and other relatives. How different I felt but how I also felt belonged! Also, I had the chance to glaze upon ancient palaces and relics I only saw in history books. Iran is a present day glimpse of the ancient world of Persia.

WHAT IS YOUR ENVIRONMENTAL ADVOCACY?
It may sound simple but my environmental advocacy is unplugging. I wear my advocacy everywhere. When you do not unplug your appliances it is called in a state of "vampire power." Would you believe that ten percent of home electricity use is accounted for vampire power alone? You could save electricity, money and our precious earth by that much through this easy and simple way- unplug!
* Back to Miss Philippines Earth 2011 Delegates:
Batch 1
|
Batch 2