Klaudine Palma | Miss Philippines Earth 2011 Profile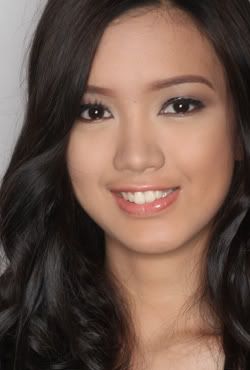 Miss Philippines Earth 2011 Beauty Pageant
Candidates / Contestants

Miss Antipolo City
Klaudine Palma

Age: 20
Height: 5'6"
Weight: 110lbs.
Vital Statistics: 30-24-36



BIO:
DESCRIBE YOUR CHILDHOOD/GROWING YEARS (8-13 Years old)
I am fortunate that I grew up with a happy family and that I had a great childhood experience. I spent a lot of time in school. I knew from the start how important school is and I have always wanted to do my best when it comes to school. Though I was serious with my studies, I was still able to enjoy my childhood playing with other kids. We played all kinds of games like hide and seek. We endlessly ran around our place, listened to loud music and danced together. I also remember going to church ever since I was a young girl. We sang and praised God at the church. After every service, I used to meet up with other children and play.

When I was around 10 years old, I got interested in developing my talents. From then on, I made it a point to make time to hone my God-given gifts.

WHAT LESSONS DID YOU LEARN FROM YOUR CHILDHOOD/GROWING YEARS?
I learned that to achieve something, we must have the drive, passion, and dedication to make it happen. Do not be discouraged whenever hardships come your way. No matter how hard your journey may be, you will always find a way through it. As long as you have God, you will never lose track. Spend time with your family, loved ones, and friends because it will really make you feel good. Never be afraid to live life. Rejoice!

WHAT IS YOUR MOST MEMORABLE MOMENT?
My most memorable moment was when I graduated from college and passed the Nurse Licensure Examination. It made me feel that all of my hard work has paid off. Things were not that easy back then but through prayers and because of the support of my family, friends, and loved ones, I was able to get through those stages very well. What I got from those moments are blessings from God not just for me but for the people I love as well.

WHAT IS YOUR ENVIRONMENTAL ADVOCACY?
I strongly believe that the more the people are aware and involved, the greater their contribution or their part can be-- especially if they will be well informed about the causes, the effects, and the possible solutions to our current environmental condition. I consider "awareness" as the initial step in saving our environment. I would also like to emphasize on promoting a "greener environment" for we know, this would greatly help our mother nature. Be aware and act NOW.
* Back to Miss Philippines Earth 2011 Delegates:
Batch 1
|
Batch 2