Jonavi Raisa Quiray | Miss Philippines Earth 2011 Profile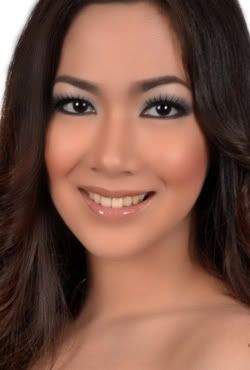 Miss Philippines Earth 2011 Beauty Pageant
Candidates / Contestants
Miss Puerto Pricesa City
Jonavi Raisa Quiray
Age: 24
Height: 5'7"
Weight: 118lbs.
Vital Statistics: 34-24-36
* Jonavi Raisa Quiray is former
Mutya ng Pilipinas 2008
titleholder. She also won the
Miss ASEAN Charming 2010
contest on March 22, 2010 held in Ho Chi Minh City, Vietnam which participated by ASEAN countries.
BIO:
DESCRIBE YOUR CHILDHOOD/GROWING YEARS (8-13 Years old)
I remember a childhood full of meaningful and great memories. I grew up being pampered by my three brothers and loving parents who taught me the values I hold dear until now. We had family gatherings held outdoors like near the beach that made me appreciate the beauty of nature. I was a shy girl but it didn't hinder me from having a circle of friends whom I cherish. I was active in all the activities in primary school. Since I was a kid I'm fond of drawing. As a cartoonist of school paper, my skills in drawing were developed. I also joined and won several poster making and on the spot drawing contest which I enjoyed the most.
WHAT LESSONS DID YOU LEARN FROM YOUR CHILDHOOD/GROWING YEARS?
My early childhood was the time when God was beginning to be part of my life. I was taught to hold on to what is good even if it's a handful of earth. Hold on to what you believe, even if it's a tree that stands by itself. Hold on to what you must do, even if it's a long way from here. Hold on to your faith, even if it's easier to let go. Hold on to God's hand. They say it's not good to dwell in the past as it hinders you from going forward into the future. However, I believe that sometimes looking back is also a good thing for one to realize where he or she is going.
WHAT IS YOUR MOST MEMORABLE MOMENT?
My interest in historical sites, art and architecture made my trip to Cairo, Egypt to be the most memorable moment in my life. It was very impressive to see the Pyramids of Giza, the oldest and only Ancient Wonder still standing, which testify the perfection in art and design, never subsequently achieved. The pyramids are the purest of constructions built for eternity. I was enchanted by the cruise on the famous longest river, The Nile River. Moreover, visiting Abu Serga where the Holy Family rested at the end of their journey in Egypt has been really meaningful for me because it has affected my spirituality.
WHAT IS YOUR ENVIRONMENTAL ADVOCACY?
I represent Puerto Princesa City dubbed as the "City in a Forest." Our vision is to be a role model of sustainable development. It is our dream to harmoniously co-exist with the other members of our ecosystem and to preserve its natural state especially the Puerto Princesa Subterranean River National Park. I am advocating the protection of the environment and rehabilitation of what has been destroyed by planting more trees for the benefit of our future generations.
* Back to Miss Philippines Earth 2011 Delegates:
Batch 1
|
Batch 2