Erika Marie Syhongpan | Miss Philippines Earth 2011 Profile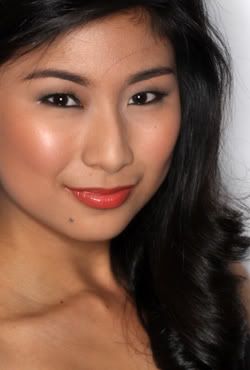 Miss Philippines Earth 2011 Beauty Pageant
Candidates / Contestants

Miss San Fernando City
Erika Marie Syhongpan

Age: 19
Height: 5'7"
Weight: 117lbs.
Vital Statistics: 34-24-35



BIO:
DESCRIBE YOUR CHILDHOOD/GROWING YEARS (8-13 Years old)
My childhood days had been the most important phase of my life because it taught me to become the person that I am today. I had a happy childhood because even my parents were separated, they taught me that I should always be humble and be nice to everyone.

WHAT LESSONS DID YOU LEARN FROM YOUR CHILDHOOD/GROWING YEARS?
I learned that I must always have a positive mindset in order to do all the things that I want. Moreover, I must always strive hard to achieve all my dreams so that I may become a better person with the grace and will of God.

WHAT IS YOUR MOST MEMORABLE MOMENT?
When I joined Veritas Club back when I was in highschool, we went to Tahanang Walang Hagdan. We had a feeding program for all the kids there and then I realized that I am very lucky for having my family beside me. I thought that I should share all my talents and blessings with other people especially to those who are less fortunate.

WHAT IS YOUR ENVIRONMENTAL ADVOCACY?
Encourage the usage of recyclable bags instead of plastic bags. Use all possible media to raise environmental awareness.
* Back to Miss Philippines Earth 2011 Delegates:
Batch 1
|
Batch 2