Edan Dafilmoto | Miss Philippines Earth 2011 Profile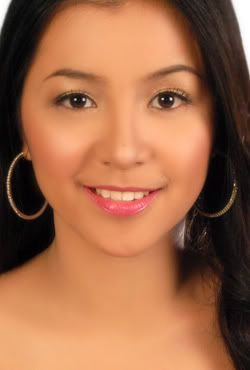 Miss Philippines Earth 2011 Beauty Pageant
Candidates / Contestants

Miss Cotabato City
Edan Dafilmoto

Age: 22
Height: 5'6"
Weight:
Vital Statistics:

* Edan Annecia Merl Dafilmoto won the Mutya ng Cotabato 2009 beauty contest.



BIO:
DESCRIBE YOUR CHILDHOOD/GROWING YEARS (8-13 Years old)
I am very fortunate to have been raised by such loving, compassionate, and responsible parents. They have instilled integral values such as love, honesty, and respect which helped me conform to the norms of my society.

My childhood years were full of laughter and adventure. I seldom recall any gloomy moments. I can still remember the scent of the rice field in our farm, which was my favorite playground at that time, and the vividness of the small hills and green meadows which my sister, cousins, and I explored. As I reminisce my childhood experience, I can say that I really made the most out of it.

WHAT LESSONS DID YOU LEARN FROM YOUR CHILDHOOD/GROWING YEARS?
I learned that growing and maturity are interconnected and are accompanied by responsibility. In addition, it was then I realized that not everything that I wanted will always be attainable, thus I gradually learned to be content with what I have.

WHAT IS YOUR MOST MEMORABLE MOMENT?
It was when I won the first place in a declamation contest in second grade. That was my very first medal. As a child, I was able to realize that pleasing results eventually follow hard work, dedication and faith. From then on, every time I start losing hope in something that I engaged in, I always think of that very moment in my life when at a very young age, I had put a great deal of trust in my capabilities and had eventually succeeded.

WHAT IS YOUR ENVIRONMENTAL ADVOCACY?
Empowering Filipinos in reducing carbon footprints through easy measures (example: eating more vegetables and less meat, using less energy, conserving water, keeping vehicles tuned-up, go for organic) as much as possible, each Filipino citizen should be able to grasp the essence of minimizing the greenhouse gases emission since this would be the ground for global warming which would initiate climate change. I believe that if we become aware of the consequences of every action we take concerning our environment, then there will be change within us and we will start to make some resolutions. We must also consider the fact that we are the ones responsible for triggering every environmental issue we face. Lastly, we should always remember that our future generations depend on us so that they may be able to live in a good environment, therefore we must not further harm what is left of our ecosystem.
* Back to Miss Philippines Earth 2011 Delegates:
Batch 1
|
Batch 2